Shakespeare: The Original Comedian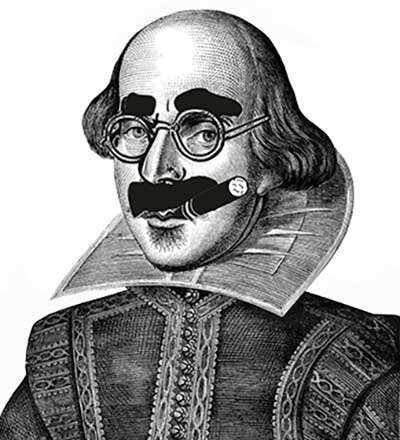 By Kathryn Neves 
Everyone loves a good comedy. The Marx Brothers, Jim Carrey, Charlie Chaplin, Goofy—these are clowns that we all know and love. Their zany humor and wild slapstick keep us laughing and coming back for more. But there's another name to add to this list: the king of comedy, the original jester—the one and only William Shakespeare. As evidence, we present The Comedy of Errors which will leave you in stitches, and show you just how funny the Bard really is.
The Comedy of Errors is one of Shakespeare's earliest plays. Likely written in the mid-1590s, it's an early example of the Bard's brilliance and humor. Puns and wordplay, misunderstandings, mistaken identities and wild slapstick—this play has it all. Shakespeare poured everything he had into the comedy of this play— and it paid off. The Comedy of Errors is widely regarded as Shakespeare's funniest play.
If Shakespeare loved any literary device, it was clowns. Nearly every play he ever wrote has a clown or two. Even the tragedies have clowns: the gravedigger in Hamlet, the Porter in Macbeth, and Lear's fool all spark moments of comedy into otherwise bleak plays. The clowns in The Comedy of Errors makes the play exponentially funnier. The two Dromios, both of Syracuse and Ephesus, regale us with their jokes and their exaggerated mishaps.
Throughout Shakespeare's plays, the clowns have several things in common: they are commoners or peasants, they are exceptionally witty, and they have intelligence and insight that goes far beyond their station in life. This certainly holds true in The Comedy of Errors. Each Dromio, slave to his respective Antipholus master, is witty enough to keep even the most intelligent playgoer rolling in the aisle. One example is in the description that Dromio of Syracuse delivers about his supposed wife: "she is spherical, like a globe," he says. In his banter with Antipholus of Syracuse, he cleverly compares each part of her body to a country: the Americas "upon her nose all o'er embellished with rubies, carbuncles, sapphires;" Ireland, "in her buttocks: I found it out by the bogs." Lines that would have had Shakespeare's audiences in stitches—and keep us laughing even four centuries later.
Shakespeare goes beyond just clowns. The Comedy of Errors is a play famous for its slapstick. With chase scenes, exaggerated comedic violence, and wild physical mishaps, this play could sit right alongside Woody Woodpecker and the Three Stooges. Slapstick goes all the way back to the 1500s. This style of comedy was very popular in Italian commedia dell'arte; in fact, the style is even named for an Italian special effect device—two sticks you would slap together to make an exaggerated, comical slapping noise. Slapstick is funny enough that it's lasted for centuries; there are plenty of comedians today who use slapstick in their routines. Shakespeare's The Comedy of Errors was actually one of the earliest examples of the art form. All the smacking and chasing and wild physical nonsense may seem pretty ordinary for those of us who have grown up with Mr. Bean and Goofy, but Shakespeare's slapstick was original—it was innovative, exciting, and pretty dang funny. Antipholus—both of Syracuse and Ephesus— spends the entire play whacking and pummeling poor Dromio; and like any clown worth his salt, Dromio takes it all with the most exaggerated and hilarious of reactions. Shakespeare's slapstick definitely still holds up.
William Shakespeare is known for his complexity and his gravitas; his tragedies and his histories are full of universal human themes and emotionally moving moments that have given him his status as the Bard. But we shouldn't overlook his comedies. He truly was a Renaissance man, master of every genre. With his slapstick, clowns, and wit, Shakespeare was the original king of comedy. Even 400 years later, Shakespeare far outshines every other comedian. The Comedy of Errors is a master comedy— and we can't wait for you to see it!