Shakespeare's Romances: What Are They?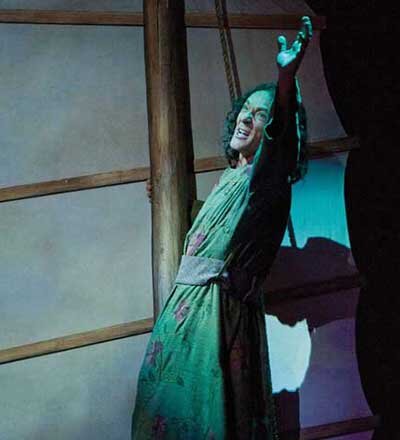 Tim Casto as Pericles in 2010.
By Kathryn Neves
 When most of us hear the word romance, we think of—well, romance. We think of love, couples, Valentine's Day, chocolate hearts, long walks on the beach, Jack and Rose, Rhett and Scarlett, Elizabeth and Darcy. But when we talk about Shakespearean romances, we're talking about something else altogether. Surprising as it may be, we're not talking about Romeo and Juliet here. Shakespearean Romances are a separate genre, and they're not about romantic love at all.
This year at the Utah Shakespeare Festival, we get the chance to see not one, but two of Shakespeare's romances: Cymbeline and Pericles. These two often-overlooked plays are some of the Bard's most beautiful works, and some of the most puzzling. These plays are not tragedies, but they're not comedies—and they're certainly not histories either. What are they? Actually, they are in their own separate category, along with The Tempest, The Winter's Tale, and (depending on who you ask) The Two Noble Kinsmen. The romances are Shakespeare's smallest genre, the often-forgotten fourth category. But what exactly is a Shakespearean romance?
For centuries, people have had trouble putting these plays into the right category. In Shakespeare's First Folio, Cymbeline was listed as a tragedy, The Tempest and The Winter's Tale were listed as comedies, and Pericles wasn't included at all. However, these labels didn't really fit. Cymbeline has a fairly happy ending; can it really be called a tragedy? And The Tempest and The Winter's Tale don't fit well with the rest of the comedies; they deal with a lot of serious themes and issues, and it's really only their happy endings that make them at all "comedic."
It wasn't until 1875 that someone first used the label "romance" for Shakespeare's works. In his book Shakespeare: A Critical Study of His Mind and Art, Edward Dowden says (speaking about Cymbeline, The Winter's Tale, and The Tempest) that "the ties of deepest kinship between them are spiritual. There is a certain romantic element in each." And, in the footnote to this page, he says that "the same remark applies to Shakespeare's part of Pericles." Dowden's "romantic" label stuck, and Shakespeare lovers and scholars have accepted the romances as a new genre, a category beyond his tragedies and comedies.
It's pretty clear that Shakespeare wrote these plays around the same time. These are some of the last plays he ever wrote. He was older, and perhaps more mature when he wrote these plays than when he wrote his other works. They all have similar themes. Long-lost relatives, families reuniting, strange locations, redemption, and magic are all important parts of these plays. Each play takes place over long periods of time; each play involves magic and pre-Christian gods, like Jupiter; they involve amazing onstage effects, like thunderstorms and shipwrecks and magical events.
Many of the characters in these romances are older. This is probably because Shakespeare himself was growing older; he began to understand more what age meant, and how it affects people; he was able to delve into the complicated emotions that come with age and parenthood a lot better during this stage of his life than he ever had before.
And, from a more practical point of view, Shakespeare's actors were growing older too. It had to be a lot easier to write characters who fit the ages of his actors than to try to make his men look younger onstage.
The romances involve both tragedy and comedy, and sometimes even a sprinkling of history. Deaths of relatives, long-lost children and siblings, great misfortune and terrible villains all make for some pretty tragic plays. But in Shakespeare's romances, the tragedy is reversed; families come together again, the long-dead seem to miraculously come back to life, couples get married, and fairy-tale happy endings prove that these plays are no tragedies. It makes sense that the romances are often called "tragi-comedies."
For many people, Shakespeare's romances are his best works. Whether or not that's true, they are definitely masterpieces. They are so different from Shakespeare's tragedies and comedies—and yet, they're very similar, too. The romances do what all of Shakespeare's works do: they teach, they inspire and they show us what it is to be human. And best of all, they entertain.