Singing, Dancing, and Magic!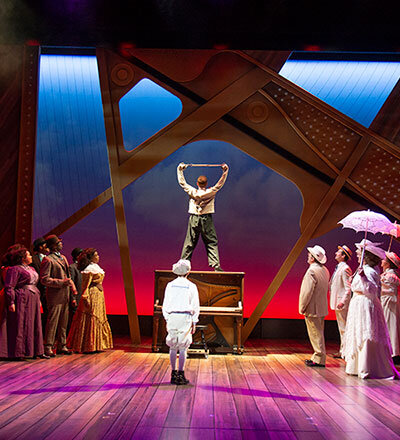 By Liz Armstrong
Actor Rhett Guter is a man of many talents. Of course, he's a consummate actor, but (as evidenced by his performances at the Utah Shakespeare Festival this summer), he is much more. For instance, he sings and dances his way across the stage as the swashbuckling Pirate King in The Pirates of Penzance, and he choreographed The Greenshow. But what may not be as obvious is that Guter is a professional magician and uses that skill playing real-life magician Harry Houdini in Ragtime.
A southern Utah local, Guter grew up in St. George and attended Tuacahn High School for the Performing Arts where he began to study dance, music, and acting as a teenager; but what led Guter to study the performing arts was, in fact, magic.
"I got into performing arts because I started studying magic when I was about 12 years old," Guter said. "I worked with a magician named Jeff McBride who told me that if I wanted to be a great magician, I would study what he called 'the cousin arts.'"
Guter was the first student to graduate from the musical theatre bachelor of fine arts program at Southern Utah University and also graduated with a bachelor of science in dance. 
"I worked consecutively for the Festival for about seven seasons while I was in college and then right after," Guter said. "Then I moved to Chicago for five years and [am now] in New York City." There he is spending half of his time acting and half of his time working as a professional musician. 
When Guter heard that the Festival was producing Ragtime this season, he immediately called Artistic Director Brian Vaughn in hopes that he could play the role of Houdini and help Vaughn with the magic in the play. Vaughn agreed, and they started to work, discussing how to most effectively fold the magic into the fabric of the play.
"The tricks themselves weren't the challenge," Guter said. "The challenge was integrating them into the play without it stopping the story."
Guter's favorite trick in Ragtime is the box illusion trick in Act 2 which is called "metamorphosis." In it, actors disappear and reappear, puzzling the audience with its convincing execution. Historically, Houdini was famous for doing that very trick with his wife, and so it was something Guter was determined to implement into the musical as a "historical nod" to the magician. 
"As a professional magician I do a lot of close-up magic, [such as] sleight of hand, card tricks, coin tricks, that kind of thing," Guter said. "You see some of that in the play, but that doesn't read as well to a large audience." However, Guter didn't shy away from the challenges this alternative magic brought, leaping at the chance to experiment. 
"Personally, I love the very first trick I do with the straightjacket because I designed it completely from scratch and I had no idea if it would work," Guter said. "So whenever that trick works,  it's extra satisfying."
For Guter, being back on stage this season has been an extraordinary experience. By blending the two things he is most passionate about—theatre and magic—Guter has been able to add his talent to the company's arsenal and—quite literally—contribute to the magic of theatre. 
Guter considers the Festival stage home, and so returning this season is a full-circle moment in the magician/actor's life. "I learned how to perform on the Festival stage, and for me to be back home this year and share both the talents I learned here—but have grown as an artist over the last eight years—has been rewarding."
The Festival's 2021 season runs through October 9. Plays are Pericles, Richard III, The Comedy of Errors, The Pirates of Penzance, Ragtime, Cymbeline, Intimate Apparel, and The Comedy of Terrors. Tickets are available by calling 800-PLAYTIX or visiting www.bard.org.