Performing Large Shakespeare Plays in a Small Theatre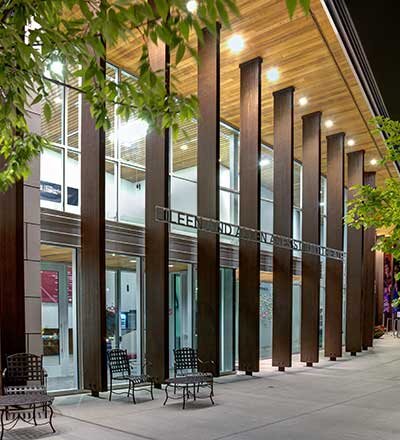 The Eileen and Allen Anes Studio Theatre
By Parker Bowring 
For the 2020 season, the Utah Shakespeare Festival will present Cymbeline, Shakespeare's rarely performed romance. Cymbeline is a large play in setting, plot, and character—and the Festival has chosen to perform it in the rather small, 200-seat Eileen and Allen Anes Studio Theatre. Of course, performing a large play in a small theatre comes with challenges, but with great rewards. The Festival artists and administrators chose the Anes Theatre because they wanted to reimagine Cymbeline and create a more active experience for this heart-rending play.
Set in the classic country of Great Britain, Cymbeline explores a king who banishes his daughter's husband to the ancient city of Rome. This diverse and evolving plot is filled with soldiers, woodsmen, ghosts, and evil stepmothers as the characters fight for love, truth, and honor. The Anes Theatre will put the audience close to the action, on three sides of the stage.
"The space is intimate, it asks the audiences to engage and lean forward, the work here [in the studio theatre] is contemporary and takes risks. . . . I'm thrilled that Cymbeline is being produced in this space," said Britannia Howe, the director.
The studio stage is smaller, creating a more intimate setting for both the audience and actors in Cymbeline.  This allows the actors to interact with the audience and create a more personal experience with a play this large.
With more than a dozen characters and five acts, Cymbeline is not a small production. So this is a chance for the Festival and its audiences to break boundaries and reimagine productions to create a lasting impression. As imagined by Howe and her creative team, "Cymbeline is an epic story that we are telling with eight actors in a trunk-show performance" said Howe. A trunk-show typically uses one trunk to house many of the props and costumes. That is not the case with Cymbeline. The play will have several different trunks and suitcases that will hold the props and costumes.
"Using the device of a trunk show, we will be clever with our elements of artistry for the production," continued Howe. "I'm very excited about this as the design team and I have already found clever ways to add wonder inside the trunks and suitcases. I also love this idea that all of these characters carry baggage figuratively. The luggage trunks will not only house Iachimo in Act 2 Scene 2, but will solve other challenges the show carries," said Howe.
Because a studio theatre set can easily be rearranged and reconfigured to fit each scene of the production, this unique stage allows for the play to have a diverse setting, with props and the background more minimal in order to not obstruct the sight of the audience. According to Howe, "Cymbeline is a manuscript of wonder and the design is purposefully minimal to encourage audiences to find imagery within the text. The play moves very quickly through many settings."
In Howe's early director's notes she said: "Cymbeline is a celebration of storytelling. A comedy, written in Shakespeare's last years, it is full of humor and mystery. This play is about the search and reunion of family," she wrote. In the end, Imogen "is overjoyed that she has found a family. There is a purpose in having an ensemble-type show telling a story about characters who are foraging for connection and reconciliation."