Something Terrific Happened at the Gala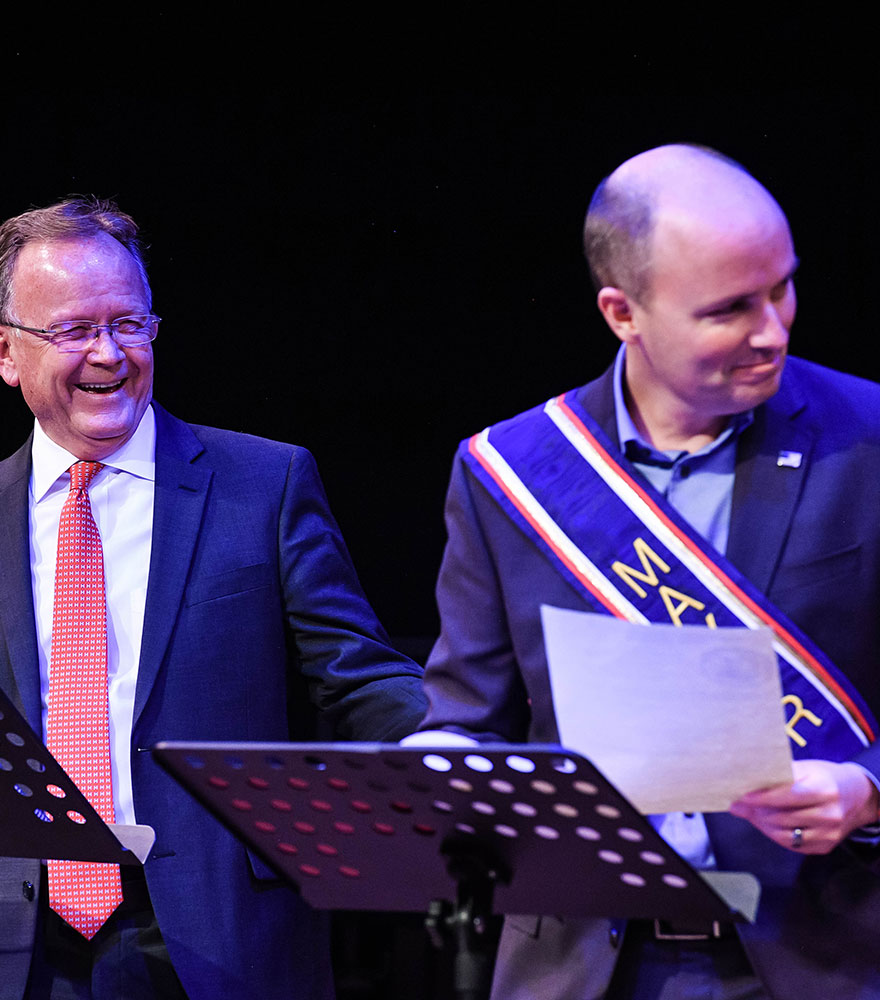 J. Stuart Adams (left), speaker of the House of Representatives, and Spencer J. Cox, lieutenant governor, perform.
"Something terrific's happened!" gushed Hildy, "Wait till I tell you!"
Hildy is the heroine of the hilarious play, The Front Page, presented at the Utah Shakespeare Festival's recent Make a Scene Gala, a gala with a twist. A newspaper reporter, Hildy was excited about a big story she was working on; but she could just as easily have been talking about the Festival's new and exciting event which took place on February 8 at Harman Hall Theatre in West Valley City.
The Make a Scene event to raise funds for the Festival education programs was not just another gala and dinner. It was a fun night of theatre starring some of Utah's most notable luminaries: Lieutenant Governor Spencer J. Cox in the role of The Mayor; his wife Abby as Mrs. Schlosser; President of the Utah State Senate J. Stuart Adams as Pincus; Utah State Representative Patrice M. Arent as Earl Williams; radio host Doug Fabrizio as McCue #1; Salt Lake Tribune columnist Ann Cannon as McCue #2; KTVX news anchor Don Hudson as Bruce Grant #2; Deseret News Head Digital Officer Burke Olsen as Kruger #1; business leaders Craig C. Wagstaff (Bruce Grant #1) and Jeffery R. Nelson (Kruger #2); as well as many more. It was directed by Festival Founder Fred C. Adams and popular actor Quinn Mattfeld.
"This is the first of its kind for a Festival fundraiser, and we couldn't be more pleased with the results," said Donn Jersey, director of development. "It was an evening filled with good spirit, entertaining improvisation, and tremendous laughs."  
This madcap comedy by Ben Hecht and Charles MacArthur is set in a 1920s Chicago newsroom and definitely tickled everyone's funny bones. The play was preceded by recognition of the evening's honorees, former President of the Utah State Senate Wayne L. Niederhauser and Dominion Energy, and was followed by a party with gourmet food stations and socializing. 
"We're very excited and pleased with the results," said Executive Producer Frank Mack. "I want to thank all of our sponsors, West Valley City and its staff, the staff of the Festival, and everyone who performed and attended. Together they helped us make a fun and memorable event that will be a great financial benefit to the Festival's education programs."
The generous sponsors of the Make a Scene Gala were Zions Bank, the Sorenson Legacy Foundation, the George S. and Dolores Doré Eccles Foundation, Embassy Suites, Big-D Construction, Dominion Energy, Rocky Mountain Power, the Larry H. & Gail Miller Family Foundation, and West Valley City.
As the Mayor said near the end of the play: "I personally am tickled to death!"