About the Playwrights: "Attend the tale of Sweeney Todd"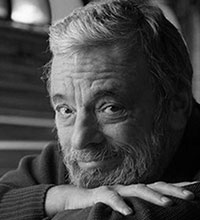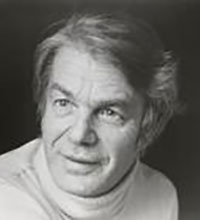 By Jess Boles-Lohmann
"Attend the tale of Sweeney Todd," intones a foreboding voice, and we are drawn into a dark world—the Tony Award-winning horror musical Sweeney Todd: The Demon Barber of Fleet Street. You'll notice that three writers are credited in the playbill:Christopher Bond, whose play the musical is based on, Hugh Wheeler, who wrote the book, and Stephen Sondheim, who composed the music and lyrics. The story of Sweeney Todd actually dates back to the nineteenth century, and each of these writers' expertise helped craft something new and compelling. Let's talk a bit about each of them and how they contributed to what you will experience while watching the play.
The primary source material for the musical comes from Christopher Bond, who wrote his version in 1974. Bond (born in 1945) is a British actor and playwright who wrote over thirty plays as well as serving as artistic director for several prominent theatres, and Sweeney Todd is his most famous contribution to theatre by far.
The character of Sweeney Todd first appears in penny dreadfuls, serialized pamphlets telling shocking horror stories for only a penny each. These massively popular stories gripped Victorian era England, and the Sweeney featured in them is an irredeemable, infernally wicked man who crept out of the darkness like a true monster. Bond, dissatisfied with this plain-old-evil Sweeney, took this long tradition and created something brand new: a story of righteous revenge with a sympathetic view of its main character.
Bond's play borrows from the Jacobean revenge tragedy genre and gives Sweeney a haunting backstory and motive for his dark deeds. He isn't a bogeyman; Bond's play makes it clear that he is an abused and bereaved man driven to extremes by the crimes of people with power over him. Is it so far off from reality that an ordinary person could fall so far and commit atrocities? Bond primes his audience to sympathize with Sweeney to the point of asking, "What if this were me?" This is a powerful and uncomfortable comparison and a huge departure from the urban legend/monster story feel of earlier versions.
It's difficult to separate the co-authors Sondheim and Wheeler when it comes to the story itself. Sondheim originally tried creating the libretto himself but found it didn't come easily. That's when Hal Prince suggested he contact Hugh Wheeler, a previous collaborator of Sondheim's and Tony Award-winner for the book of their musical A Little Night Music. Wheeler (1912–1987) was a prolific writer, producing numerous mystery novels, short stories, screenplays, books of poetry, and more, in addition to his work in musical theatre. Beyond his collaborations with Sondheim, Wheeler wrote the libretto for Leonard Bernstein's Candide and is noted by some sources as co-writing the screenplay for the film adaptation of Cabaret, among other musical theatre credits.
For Sweeney Todd, the pair built the structure of the play together and then separated for Wheeler to write the book and Sondheim the music and lyrics. The plot of Bond's play is kept relatively intact by Sondheim and Wheeler, with most of the action occurring in the same narrative order. 
One major change that the pair performed on the Bond script was the expansion of perhaps the musical's most famous moment. In Bond's play, Mrs. Lovett takes only a brief moment to mention what they might do to profit off of Sweeney's first victim. "And with meat the price it is these days . . ." she says, and Sweeney picks up her meaning straight away: they will bake the bodies of his victims into her pies. Sweeney agrees and they fall into each other's arms, "laughing helplessly." Wheeler and Sondheim expand this brief interchange into a full-on, lively, and hilarious musical number, "A Little Priest," giving us an extended look into their glee over their wicked plot. Sweeney and Mrs. Lovett merrily plan, puns abound, and the pair triumphantly end the first act. This longer version forces us to dwell on the impending cannibalism for a long time before we are released to intermission. If we laugh along, it almost feels as if we are complicit. Are we allowed to have fun with this? Unspeakable things are happening onstage; what does it say about us if we laugh and clap for these two? I would argue that this structural change makes all the difference in the material hitting home for us in the audience.
Stephen Sondheim (1930-2021) is far and away the most famous contributor to the musical, having composed the music and lyrics in 1979. He is arguably the most important theatrical artist of the late twentieth century, having created such timeless and beloved musicals as A Funny Thing Happened on the Way to the Forum, Company, Sunday in the Park with George,Into the Woods, and many more; in addition to these creations of his own, he contributed the lyrics to other timeless Broadway hits like West Side Story with Leonard Bernstein and Gypsy with Jule Styne.
Sweeney Todd was a massive departure from what was being offered on Broadway at the time, and something that sets this musical apart from others in his oeuvre is Sondheim's use of underscoring, unusual for a musical. You'll notice that orchestrations underlay almost all of the action. Typically, the music at the end of a song is used to cue the audience about when to react, most commonly with applause. Critically,continuous underscoring prevents us from clapping and celebrating the people onstage. We as the audience are tipped off our balance unconsciously by a relentless river of music that takes no break to praise itself. Like Poe's tell-tale heart under the floorboards, the underscore keeps us on the edge of our seats. Are we supposed to laugh, reward the performers? No, we are not allowed to step outside of the grueling story even for a moment. The orchestrations call all our conventions of audience-ship into question. In this seemingly simple way, Sondheim actively transforms source material into something entirely new, something more akin to Hitchcock than Oklahoma.
This cinematic feeling we get while watching Sweeney Todd is no accident. In his book Finishing the Hat, Sondheim cites Hitchcock and other suspense films from his childhood as primary inspiration for his transformation of Bond's original play, calling the musical "a movie for the stage" (Sondheim 332). Looking at his work this way brings clarity to why we feel so off-kilter when, for example, the orchestra swells with aggressive and discordant music to famously transition us out from "No Place Like London" and into Mrs. Lovett's bakeshop. In a movie theatre, we don't break our willing suspension of disbelief very often, remaining rapt even as we grab another fistful of popcorn. There is no built-in rest to glance at our companion or congratulate the actors on screen. We aren't given a moment to remember that this isn't real, that the actors are going back to their dressing rooms to refresh, that no one is in any real peril. Sondheim does what no one had done before and injects this filmmaker's tool into musical theatre, creating "a musical horror story, one which would not be sung-through but which would be held together by ceaseless underscoring that would keep an audience in suspense and maybe even scare the hell out of them" (Stephen Sondheim, Finishing the Hat : Collected Lyrics (1954-1981) with Attendant Comments, Principles, Heresies, Grudges, Whines and Anecdotes [New York, Alfred A. Knopf, 2011]*,*p 332).
He pulls off a masterwork of adaptation, lending further complexity to the history of this story. We couldn't expect any less from the late, great Stephen Sondheim, who we sadly lost last year. May his memory be a blessing.