Start School with a Student Discount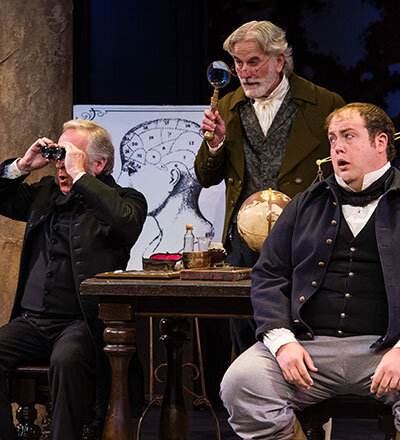 Dan Frezza (left) as Sir Nathaniel, Henry Woronicz as Holofernes, and Thomas J. Novak as Dull in the Utah Shakespeare Festival's 2013 production of Love's Labour's Lost. (Photo by Karl Hugh.)
In The Taming of the Shrew, Shakespeare's character, Gremio, said, "O this learning, what a thing it is!" And what an opportunity it is, especially when students can supplement classroom learning with fun and exciting live theatre at the Utah Shakespeare Festival—all at a discount!
With summer coming to a close, students are heading back to school for another year of learning; and the Festival is offering them several deals, including the following:
**Student Access Pass:**Students may purchase the Student Access Pass for $40 and receive one ticket per performance to unlimited performances during the season. The pass can be purchased anytime and then used at the Ticket Office to receive a ticket on the day of the show, on as many days as you want. This pass is available for enrolled elementary through university students and home schoolers. An ID is required when purchasing the pass.Keep in mind that this pass excludes premier seating, and tickets are subject to availability. The pass expires Oct. 9, 2021, only one pass per student is allowed, and no refunds or exchanges are allowed.
Half-Price Student Rush Tickets: This discount is available one hour before each performance for half-off tickets to any of the plays. It is available only for in-person purchases at the Ticket Office. A student ID is required.
Child/Student $10 Off: If you prefer to purchase your tickets in advance or online, a child/student discount is available 24/7 online or by calling the Ticket Office during regular office hours at 800-PLAYTIX. This discount excludes premier seating, but can be purchased at any time.
Shakespeare said in Love's Labour's Lost that "study is like the heaven's glorious sun," and so it can be; but a break is always a good thing, especially when a play, whether comedy, musical, or tragedy, awaits at the Festival. So come and enjoy live theatre, and learn while you're at it!
To purchase tickets and obtain these passes and discounts, call 800-PLAYTIX or visit the ticket office in person. You may also receive the Child/Student discount online at www.bard.org. The Festival's 2021 season runs through October 9. Plays are Pericles, Richard III, The Comedy of Errors, The Pirates of Penzance, Ragtime, Cymbeline, Intimate Apparel, and The Comedy of Terrors.