SUU Alumna Lives Out Childhood Dream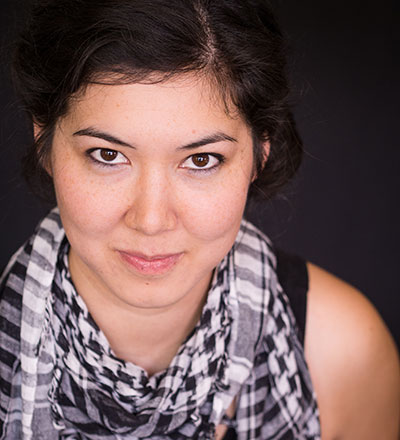 By Liz Armstrong 
For actor Anatasha Blakely, dreams really can—and do—come true. 
Blakely is in this year's acting company at the Utah Shakespeare Festival, and for her it's not just a dream come true, but a full-circle moment (and a homecoming) in her life. 
Blakely grew up in Orem, Utah, before attending Southern Utah University to study classical theatre. While here she fell in love with, not just acting, but with Shakespeare and the Festival. Twelve years later, she is back in her college town, and she said it feels like her teenage dreams have come true. 
"When I was sixteen, I fell in love with Shakespeare at the Festival," Blakely said. "I was obsessed with Education Director Michael Bahr and thought he was the coolest person—I still do."
Blakely went on to play Helen in the Festival's educational touring production of A Midsummer Night's Dream (directed by Bahr) after she graduated from SUU in 2010. 
As a college student, she performed with Off the Cuff, a comedy improvisation company in Cedar City and met some improv actors from Los Angeles. 
"I was drawn to go do improv," Blakely said. "I went to iO West and Second City in Los Angeles and tried to get the equivalent of a master's degree in comedy, which I think really changed how I look at Shakespeare and how I approach acting."
Living and acting in L.A for ten years allowed Blakely to go out and find herself artistically away from home. "I'm trained in classical theatre, and that's really structured; and if I wanted to be the artist I thought I could, I needed to do the opposite of that, which was jumping on stage and doing improv," Blakely said.
In addition to changing her perspective as an actor, leaving her home state has made coming back that much more special. Blakely is extremely excited to have landed the role of E. Dumaine in All's Well That Ends Well because she has worked with director Melinda Pfundstein before. 
"I think she's a genius, so being able to be in the room with her again is a privilege that I don't take lightly," Blakely said.
She also finds parallels between the two roles she's playing, although E. Dumaine, friend of Bertram, in All's Well That Ends Well, and Stephano's drunken character in The Tempest are very different. "Both of the plays are about grace which is beautiful at a time like this, and there's a mischievousness in both of my characters that'll be fun," she said. 
From falling in love with Shakespeare for the first time as a teenager, to becoming a member of the Utah Shakespeare Festival acting company in the very same place, Blakely's story is the epitome of a happy ending—and a full-circle journey.
Tickets are now on sale for the Festival's 2022 season which runs now through October 8. In addition, to The Sound of Music, the season will feature All's Well That Ends Well, Sweeney Todd, King Lear, Trouble in Mind, Clue, The Tempest, and Thurgood. Tickets can be purchased at bard.org or by calling the ticket office at 800-PLAYTIX.