SUU & Festival Fellowship Program Continues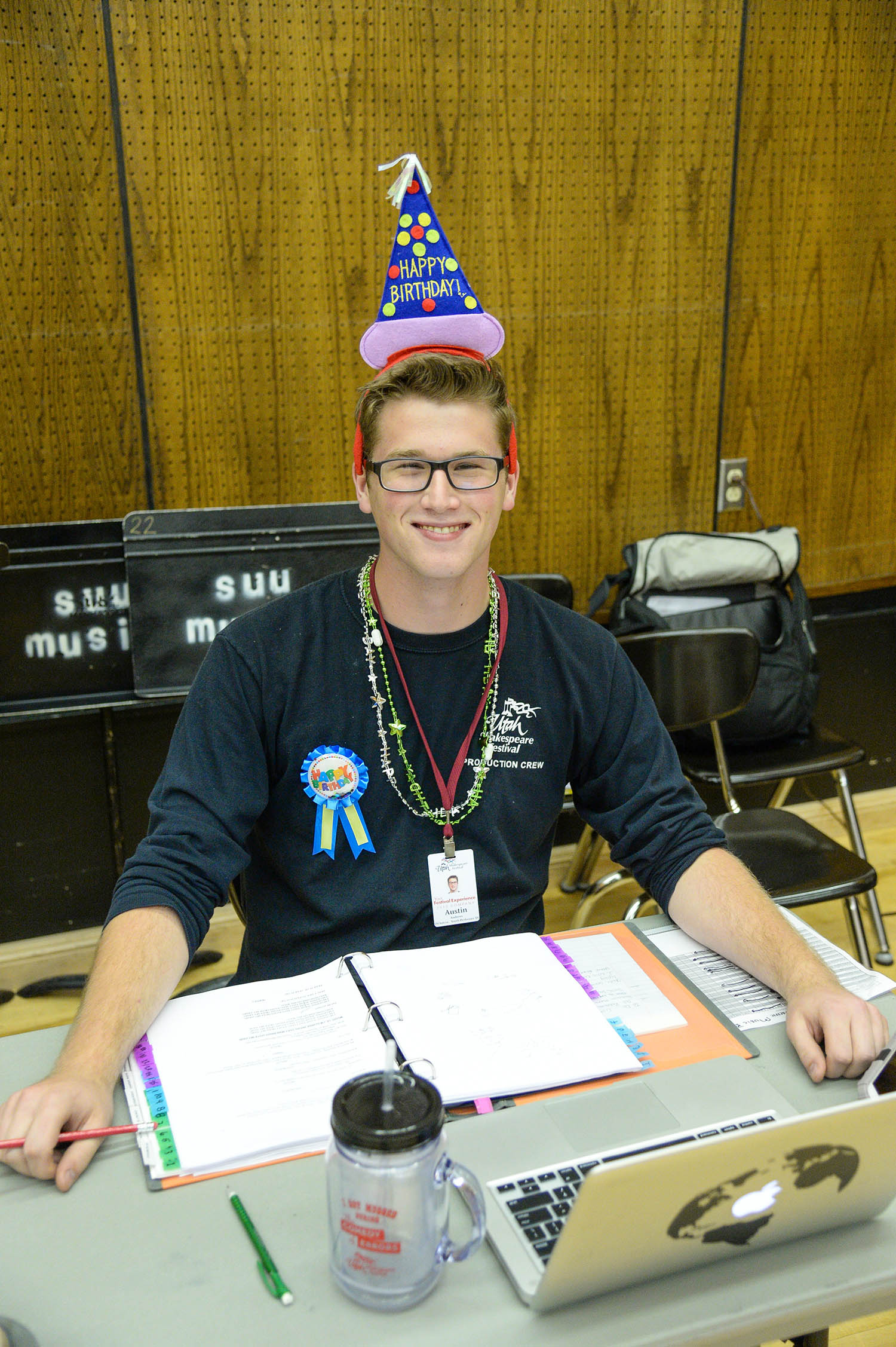 The SUU & Festival Fellowship Program
Cedar City, UT – Now in its second year, the SUU Fellowship Program at the Utah Shakespeare Festival is now running at full steam. This program provides Southern Utah University students an opportunity to work at professional theatre while gaining credit towards their degrees.
Participating in the program's second year are Austin Andrews, Phoebe Bock, Jordyn Cardwell, James Alexander Greig, Chalise Jenkins, Luke Johnson, Halie Merril, Kristine Norbdy, Aimee Pearson, and Robby Wilson.
This program would not be possible without the generous support of Southern Utah University and Provost Brad Cook. Artistic Directors Brian Vaughn and David Ivers have wanted to develop the fellowship program for years, but there weren't enough resources within the Festival. Thankfully, SUU has stepped in and provided the funding essential to make this program happen.
"The SUU Fellowship provides an incredible platform for the practical application of what has been learned in the classroom," said Artistic Director Brian Vaughn. "Not only are these students building relationships with top professionals within the field; they are also acquiring the professional experience that one that needs prior to graduation. In the cut-throat world of theatre, giving the student the opportunity to get ahead is central to why this program exists."
These 10 students either work in the technical shops building the shows or act in The Greenshow and in different shows as ensemble members. Each receives school credit while working alongside professional actors and technicians who mentor them throughout the summer.
The Fellowship Program allows students to bridge the gap between educational and professional theatre. These fellows not only grow as students, but they are receiving hands-on experience that will open many doors after they graduate.
 Austen Andrews, entering his third year in the BFA technical theatre and design program at Southern Utah University, is a stage management fellow at the Festival this summer. "Stage management is a discipline that is not easy to teach," Andrews explains. "One has to learn by doing, and what better way than working at a professional theatre.  I am exposed to a myriad of techniques and styles of stage management from the Festival's team. I am grateful for the chance to represent SUU at the Utah Shakespeare Festival!"
Currently in the BFA in classical acting program, Halie Merril will be featured in The Greenshow as well as being part of the Ensemble in Amadeus and South Pacific. "There are several things I'm learning and I'm overjoyed to be growing as a performer and person," she said. "Going from years of admiring these actors to being in the same room as them is exciting and rewarding. I'm so grateful to be in the fellowship, and it feels amazing to know I'm going to share the stage with people I look up to so much."
Southern Utah University Provost Brad Cook explains, "The Fellowship Program is one of many ways SUU is providing relevant, applied experience for students to connect with their future communities of practice. Experiences such as this afford focused reflection for students in order to increase knowledge, develop skills and clarify values. Experiential learning is also referred to as 'learning through action', 'learning by doing', 'learning through experience', and 'learning through discovery and exploration.'  The students who go into this program will have an incredible advantage in their next stage of life, whether that is graduate education or employment."
Tickets are on sale for the Festival's 54th season, which will run from June 25 to October 31, 2015. The eight-play season includes Shakespeare's King Lear, The Taming of the Shrew, Henry IV Part TwoandThe Two Gentlemen of Verona. The season will also include Peter Shaffer's Amadeus, Rodgers and Hammerstein's South Pacific,Charley's Aunt by Brandon Thomas and Steven Dietz'sadaptation of Bram Stoker's Dracula. For more information and tickets visit www.bard.org or call 1-800-PLAYTIX.