Take a Hilarious Look at William Shakespeare's "Long Lost First Play"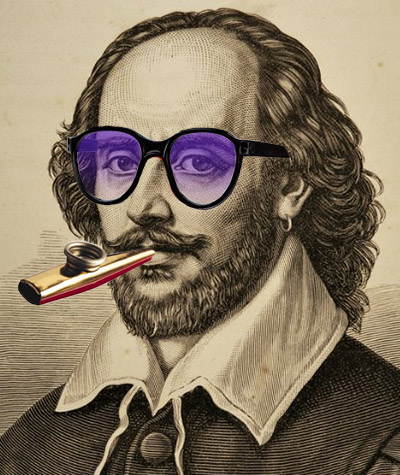 The Washington Post called William Shakespeare's Long Lost First Play (abridged) "a breathlessly irreverent and pun-filled romp!" DC Metro added that it is "vaudeville for our times!" And Metro Weekly called it "a non-stop crowd pleaser!"
Yet, the most apt description may come from one of the two playwrights responsible for this wacky Shakespearean send-up being presented this summer at the Utah Shakespeare Festival: "The show is a roller-coaster ride through the newly discovered first play that Shakespeare ever wrote and is not recommended for people with heart conditions, back problems, inner-ear disorder, or English degrees," said Reed Martin, with his tongue firmly in his cheek. "The authors cannot be held responsible for expectant mothers."
But seriously, what is this play, which is premiering regionally at the Festival from July 28 to October 21, all about? Austin Tichenor, the other half of this off-beat playwriting duo, told of touring the Folger Shakespeare Library vaults in 2010 and hearing from then-director Gail Paster that her holy grail would be an actual manuscript of a Shakespeare play in the Bard's own hand. "Because we are nothing but givers," said Tichenor, "we decided to hurry history along and create the long-lost manuscript we all hoped to find." Seriously.
Martin plowed ahead: "The conceit of the show is that we find (in a parking lot in Leicester, England, of course!) the first play that Shakespeare ever wrote. He was seventeen at the time and it contained every character and plot device that we now see in his later plays, but they are all woven together into a brand new, 400-year-old storyline."
The play they "found" was over 100 hours long, so the duo, thankfully, reduced it down to under two hours. Thus, William Shakespeare's Long Lost First Play (abridged) was born!
Christopher Edwards, who is directing the play for the Festival, added: "The play is a three-person comic romp. . . . That said, the three actors are taking on a daunting task trying to produce an un-producible play. The actors are a bit naïve, full of themselves, and ready for the challenge ahead, so conceptually they are actors putting on a play."
Whew!
On the surface, the plot is simple: Puck from A Midsummer Night's Dream has an ancient grudge against Ariel from The Tempest. As they call upon other characters and plot elements from various Shakespeare plays, however, things get frenetic as they turn the canon upside-down and in the process create such strange bedfellows as Hamlet and Lady Macbeth, Viola and Richard III, King Lear and the Weird Sisters, and Dromio and Juliet.
"The actual creative process involved equal measures of writing and archeology," said Tichenor. "We wanted to dig around and find actual Shakespeare lines we could repurpose whenever we could. The fun part was mixing and matching characters and lines from throughout the canon and creating similar-but-new dramatic (and comic) situations."
Martin and Tichenor are of course two of three actors who introduced the world to The Complete Works of William Shakespeare (abridged) in 1987, a play that was popularly produced (with different actors) at the Festival in both 1999 and 2009. The humor and frenzied pace of that play carries over into William Shakespeare's Long Lost First Play (abridged), but there are many differences.
"We wanted to write something in the spirit of all our previous Reduced Shakespeare Company shows but that was driven less by vaudeville and more by narrative," said Tichenor. "Long Lost Shakes tells a single story from beginning to end and mostly features characters who aren't even mentioned in The Complete Works. Also, at least 95 percent of 'Long Lost Shakes' is in verse!"
Edwards—who through his direction will be trying to take all this energy, focus it, and then let is loose on Festival audiences—is excited to be working on this comedy. "I love what David Ivers, Brian Vaughn, and R. Scott Phillips are doing at the Utah Shakespeare Festival," he said. "It is a great opportunity to do this play for the first time in the United States outside of the Reduced Shakespeare Company. Their plays are great and a blast to do as much for the creative team and the actors as they are for the audience."
Okay. Now, the playwrights should get the last say on what this play is about and why Festival audiences will love it.
First Tichenor: "I think audiences are going to be surprised how familiar 'Long Lost Shakes' feels, which just shows how deeply Shakespeare is embedded into our cultural DNA," he said. "As real as magic and the supernatural were considered 400 years ago, they serve today as a wonderful metaphor for the magic of theatre, which is what I hope 'Long Lost Shakes' ultimately celebrates."
And Martin on what audience members should watch for: "Thieves and pickpockets. In keeping with Shakespeare's original practices, we understand the Utah Shakespeare Festival employs gangs of roving vagabonds and ne'er-do-wells. [Editor's note: No we don't!] Watch your purse!"
Enough said!
Tickets are now on sale for the Festival's 56th season, which will run from June 29 to October 21. Other plays in the season are As You Like It, Shakespeare in Love, Romeo and Juliet, Guys and Dolls, A Midsummer Night's Dream, Treasure Island, The Tavern, and How To Fight Loneliness. For more information and tickets visit www.bard.org or call 1-800-PLAYTIX.
The Utah Shakespeare Festival is part of the Beverley Taylor Sorenson Center for the Arts at Southern Utah University, which also includes the Southern Utah Museum of Art (SUMA).