Ten Fun Facts About The Play That Goes Wrong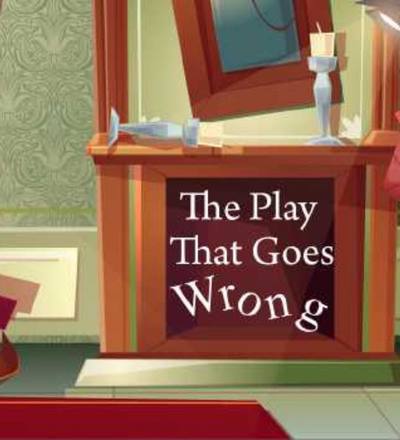 By Liz Armstrong
This comedic farce was written by Henry Lewis, Henry Shields, and Jonathan Sayer. It began small, opening in a pub in London. For more information about the play, visit our Study Guide. The Play That Goes Wrong was met with wild success, earning a Tony Award, growing in popularity across the world, and even inspiring television shows.
1- As of January 19, 2023, the play hit its 3,000th performance at London's Duchess Theatre where it began nine years ago. The Play That Goes Wrong is the longest running play at that theatre since it opened in 1929 and the longest running comedy in the West End.
2- Two TV shows took inspiration from the play––Peter Pan Goes Wrong and A Christmas Carol Goes Wrong, which hit the British Broadcasting Company in 2016 and 2017. A television series called The Goes Wrong Show was created in 2019, and due to its success, it was renewed for a second series in 2021.
3- The original Broadway production in 2017 won a Tony Award for Best Scenic Design of a Play and a Drama Desk Award for Outstanding Scenic Design of a Play.
4- The play has had productions in over 30 other countries.
5- This was the first play that Henry Lewis, Henry Shields, and Jonathan Sayer had written together. They started writing the play together as roommates in a small flat in London after meeting at the London Academy of Music and Dramatic Art.
6- Because this is a comedic farce, it's no wonder the Director Mark Bell did a lot of clowning (Lecoq-style) according to playwright Henry Lewis. The Lecoq acting style focuses on physicality and movement. It comes from French actor and acting coach Jacques Lacoq, who encouraged his students to be creative and focused on the importance of freedom instead of stringent acting rules.
7- Playwright Henry Lewis made it clear that making the play a murder mystery was decided on very early on. "The murder-mystery genre is really well-known, and it's really important that the audience get what it was supposed to be had it gone right," Lewis specified.
8- Lewis, Shields, and Sayer acted in the original play. In the Old Lion Theatre, the set was built for only about 300 pounds (or $360). Slayer noted that it got to a point where he was fixing the set with "gaffer tape," and the walls became a kind of paper-mache of masking tape.
9- The play was originally a one-act play, but when Kenny Wax, a producer, came on board, he said that the play needed to be bigger and longer. The three playwrights went to work and were "ambitious" with it, as Shields noted, not shying away from bigger stunts.
10- As the show got bigger and bigger, the actors underwent circus training. Aircraft Circus, a company in London, gave a specialized training to properly train the actors for specific stunts. This training was meant to make sure the actors could perform these stunts for an extended period of time without hurting themselves.
To purchase tickets to The Play That Goes Wrong, go to bard.org or call 800-PLAYTIX. Click here to see our other 2023 productions.