Ten Interesting Facts about Thurgood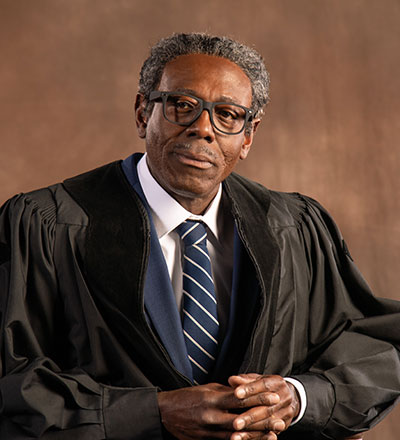 By Liz Armstrong 
The one-man play, Thurgood, is a theatrical depiction of the life of Thurgood Marshall, the country's first African American Supreme Court justice. Playing September 14 to October 8 at the Utah Shakespeare Festival, it tells the story of a lawyer and civil rights activist who spent his life advocating for justice for all Americans. Interim Artistic Director Derek Charles Livingston will play Marshall in the production, but before you attend, here are some things you will find interesting. 
1—The justice's first name was was actually Thoroughgood, but in second grade, he got tired of writing his full name and shortened it to Thurgood. 
2—Marshall was an exceptional lawyer, arguing thirty-two cases before the Supreme Court. Out of these cases, he prevailed in twenty-nine, giving him a success rate of over 90 percent. Becoming an attorney started at the dinner table as a child, where his father disputed most topics his son brought up. 
3—He is most known for his pioneering of civil rights battles, but he also took on debates regarding police brutality, women's rights, and the death penalty. His mother was a teacher, and so he also fought for equal pay for African-American teachers.
4—Marshall's notable work—including the Brown v. Board of Education case—wasn't the only thing memorable about him. He had a big personality too and was known to drink bourbon and tell stories full of lies with President Lyndon Johnson. 
5—Thurgood was the first play that George Stevens Jr. wrote and directed, and it was nominated for a Tony award. To learn more about the playwright, visit https://www.bard.org/study-guides/about-the-playwright-thurgood/.
6—Marshall went to Lincoln University, where he originally planned to study dentistry. Instead, he graduated with a degree in literature and philosophy. He went on to study law at Howard University, where he graduated top of his class. 
7—His first pick for law school was the University of Maryland, but he did not apply because of its segregation policy. Marshall's "first big civil rights victory as an attorney, Murray v. Pearson, was against this very school," according to legacy.com. This win resulted in equal education for generations to come. 
8—In 1967, Marshall became the first African American to become a Supreme Court justice. When Marshall retired in 1991, Clarence Thomas replaced him and became the second. 
9—Marshall received the United State's highest civilian honor—the Presidential Medal of Freedom a few months after his death. It was posthumously awarded in 1994 by President Bill Clinton. 
10—In 2008, Thurgood premiered on Broadway at the Booth Theatre. In 2011, in celebration of Black History month, a screening of the film was hosted by the White House. This filmed version starred Laurence Fishburne. 
To purchase tickets to Thurgood or any other plays at the Festival, visit bard.org or call 800-PLAYTIX.