Ten Shakespeare Plays You Didn't Know You Knew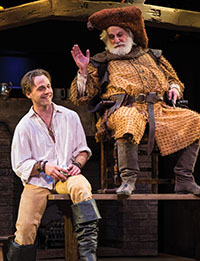 By Allison Borzoni
Sam Ashdown (left) as Prince Hal and Henry Woronicz as Sir John Falstaff in Henry IV Part One, 2014..
CEDAR CITY, UT— Whenever we gather in a theatre for a Shakespeare play and settle into our seats, we're excited to get started and watch the show. But if you haven't seen the play before, you may  flip open the program and read the synopsis to get familiar with the story. The likelihood, though, is that you've already seen parts of these Shakespeare plays. The plots, tropes, and characters that Shakespeare used back in London are still in use today, and here are just ten of them:  
1. Hamlet: The plot of Hamlet is adapted point by point in Disney's The Lion King. Simba represents Hamlet in this adaptation of Shakespeare, and Simba is surrounded by characters similar to the originals Scar as Claudius, Timon and Pumbaa as Rosencratz and Guildenstern, and Rafiki/Zazu as Polonius. Although the Disney version has a significantly lower number of casualties, the basic plot still follows. Boy's father is killed by the uncle, boy runs away from responsibilities and big decisions, boy speaks to his father's ghost, boy returns to his kingdom and kills his uncle.
2. Troilus and Cressida: One word here: Illiad. Troilus and Cressida isn't the most popular of Shakespeare's plays, but don't worry about not knowing the context. Troilus and Cressida takes place during the Trojan War, fully equipped with Achilles, Ajax, Ulysses, and Agamemnon. Once you know that the play takes place during the Illiad, and when you learn that Troilus is a Trojan prince, there are going to be some sad times ahead. Although the love story between Troilus and Cressida never takes place in the Illiad, you have enough context to sit down, kick back, and enjoy the play.
3. Henry IV Part One: One of the main points in both Henry IV Part One and the Jungle Book is that the protagonists  must face their rival and their responsibilities. Prince Harry spends most of the play living a prank-filled life with the fat Falstaff, and Mowgli does the same with the jolly Balloo. King Henry keeps appealing to his son to come back home and be the prince that England needs, while Bagheera keeps attempting to deliver Mowgli to the safety of the Man-Village. Prince Harry eventually takes on his mantle and defeats Hotspur, and Mowgli manages to defeat his own Hotspur, Sher-Khan. Although Mowgli's jungle isn't torn apart by civil war, his journey throughout the movie is similar enough to Prince Harry's to guide you through the play.
4. Henry V: Going into a history play can be intimidating, but when it comes to Henry V, just sit back and replace King Henry with Thor, the French with Frost Giants, and Catherine with Jane. Shockingly enough, Thor is an excellent parallel to Henry V. In both the play and the movie, a young royal has to prove himself to his family and supporters. He has to sacrifice a lot in order to win what looks like a losing fight, but in the end he triumphs. Both Henry and Thor get the girl from another land too, despite the language barriers and broken coffee mugs.
5. King Lear: The plot of Thor will also help you with another Shakespeare play - King Lear. If you're intimidated by this intense tragedy, don't be; just reach back into your knowledge of Thor and you'll get a good chunk of the plot. One of the sub-plots in King Lear is the story of Edward, Edgar, and their father Gloucester. Edward is the bastard son who convinces his father that his legitimate son Edgar can't be trusted. Edgar is then forced to leave and hide from Edward's manhunt. This should sound a bit familiar, as Loki is a parallel to Edward. Odin exiles Thor without Loki's urging, but Loki does his best to take down Thor and get Odin's throne for himself. The Thor/Edgar trope ends relatively happy in both the tragedy and the movie, with both Thor and Edgar getting back into their father's good graces.
6. Julius Caesar: Et tu, Brute? You probably know that line already, which means you also know that Julius is doomed to die. It's an exciting part of history that is common knowledge, and Shakespeare doesn't deviate too far from the facts. Caesar's wife warns him to not go to the Senate and to beware the Ides of March, but Caesar ends up going anyway. He's stabbed twenty-three times by the senators and his closest friends, and eventually Marc Antony takes power. The play, of course, digs into the specifics, but it's a Shakespeare play you can predict as soon as you hear, "Hail, Caesar!"
7. As You Like It: Shakespeare's comedies can be complicated farces, but there is actually a Will Ferrell movie that can help you understand this play, and it's Megamind. In both productions, someone wins a battle he shouldn't. Orlando wins a wrestling match against a professional, and Megamind kills Metro Man despite the fact he has never won a fight. One trope shared between the play and the movie is the disguising trope. Rosalind disguises herself as a boy and later convinces Orlando to practice flirting with "Ganymede" so he can successfully win Rosalind's heart later. Megamind also participates in an awkward game of disguise when he disguises himself as Bernard and works with Roxanne to try and take down—that's right—Megamind. Despite the complications of promises to marry and finding an invisible car, both play and movie end happily.
8. Much Ado about Nothing: The trope of two characters who swear they'll never get married and insult one another due to pride and misunderstandings is as old as time. In Much Ado about Nothing, there is the subplot of Beatrice and Benedick, two individuals who share insults, jokes, and a declaration that they'll never marry. Beatrice and Benedick share some striking similarities with another popular love story: Pride and Prejudice. Although Shakespeare's jokes are less subtle than Pride and Prejudice's satirical jokes and insults, they are remarkably similar. The fact that another love story is occurring alongside Beatrice and Benedick/Elizabeth and Darcy only adds to the similarities. All four of those characters do their best to bring their friends and relatives happiness while debating and then finally committing fully to their own love story.
9. The Comedy of Errors: Twins are the name of the game this time, with separated parents each having a twin in both The Comedy of Errors and The Parent Trap. Both play and movie have a farce-like trading of identities. The Comedy of Errors throws its characters into these situations without their knowledge, but in The Parent Trap, the twins don't realize they have a sister until they meet at summer camp. This twin trope is popular throughout comedies and highly successful, as shown in the popularity of both shows. In the end, The Comedy of Errors and The Parent Trap reunite the parents and fix all of the love triangles.
10. The Winter's Tale: The Winter's Tale has a dark and insightful beginning, but with a fairytale ending—and so does Frozen. Although the plots do not line up stanza for stanza (and Frozen has a large lack of bears), the shows do share several tropes. A young woman grows up separated from her family, a woman turns from a statue back into a human due to familial love. Granted, the statues have shifted in characters, Hermione is a mother who was verbally attacked by her husband and Anna was accidentally attacked by her sister. However, both King Leontes and Elsa greatly regret their decisions and are horrified that they "killed" Hermione/Anna.
All of Shakespeare's plays are their own shows, but Shakespeare's tropes and plots have been revived and reworked into other popular movies over the years. So next time you go into a Shakespeare play you're not familiar with, don't worry about it! Set up a movie night with Thor, The Lion King, or The Parent Trap, and you'll be all set to enjoy Shakespeare too.