Ten Things You May Not Know about The Comedy of Errors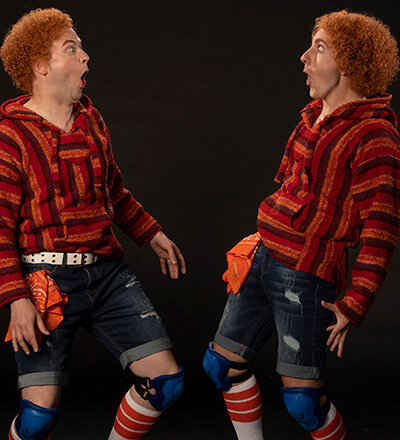 Michael Doherty (left) as Dromio of Syracuse and Andrew Plinio as Dromio of Ephesus in The Comedy of Errors.
By Parker Bowring
With a plot rife with twists and turns and not one, but two sets of twins, The Comedy of Errors is a fun-filled play that is two times the trouble and double the laughs. Newly reimagined in the Utah Shakespeare Festival's 2021 season and set in the 1970s in a Greek Island paradise, this tale weaves humor and heart into a splendid tale of family, loyalty, and love. 
Even though this is a popular and often-produced play, there are a few things about this audience-favorite that you may not know: 
The Comedy of Errors was first published in the First Folio of 1623, from Shakespeare's manuscript.

It is his shortest and one of his most farcical comedies, with a major part of the humor coming from slapstick and mistaken identity, in addition to a multitude of puns and word play.

It is based on Menaechmi by Plautus, with additional material from Plautus's Amphitruo and the story of Apollonius of Tyre.

As one of Shakespeare's earliest works, the play was first performed at Gray's Inn in London, on December 28, 1594, as part of the Christmas festivities.

Half the play is in blank verse, an exceptional accomplishment for Shakespeare being such a young playwright.

The Comedy of Errors, as Shakespeare wrote it, is set mainly in a street in Ephesus in Ancient Greece, which is now a UNESCO World Heritage Site in southern Turkey.

The play has been adapted into several different movies.

The Comedy of Errors is one of only two Shakespeare plays to observe the Aristotelian principle of unity of time, which means that the events of a play occur within twenty-four hours.

In the centuries following its premiere, the play's title has entered the popular English lexicon as an idiom for "an event or series of events made ridiculous by the number of errors that were made throughout."

There is no real antagonist in The Comedy of Errors. Most characters create their own problems by making assumptions based on the similar appearances of each Antipholus and Dromio.