What We're Thankful For!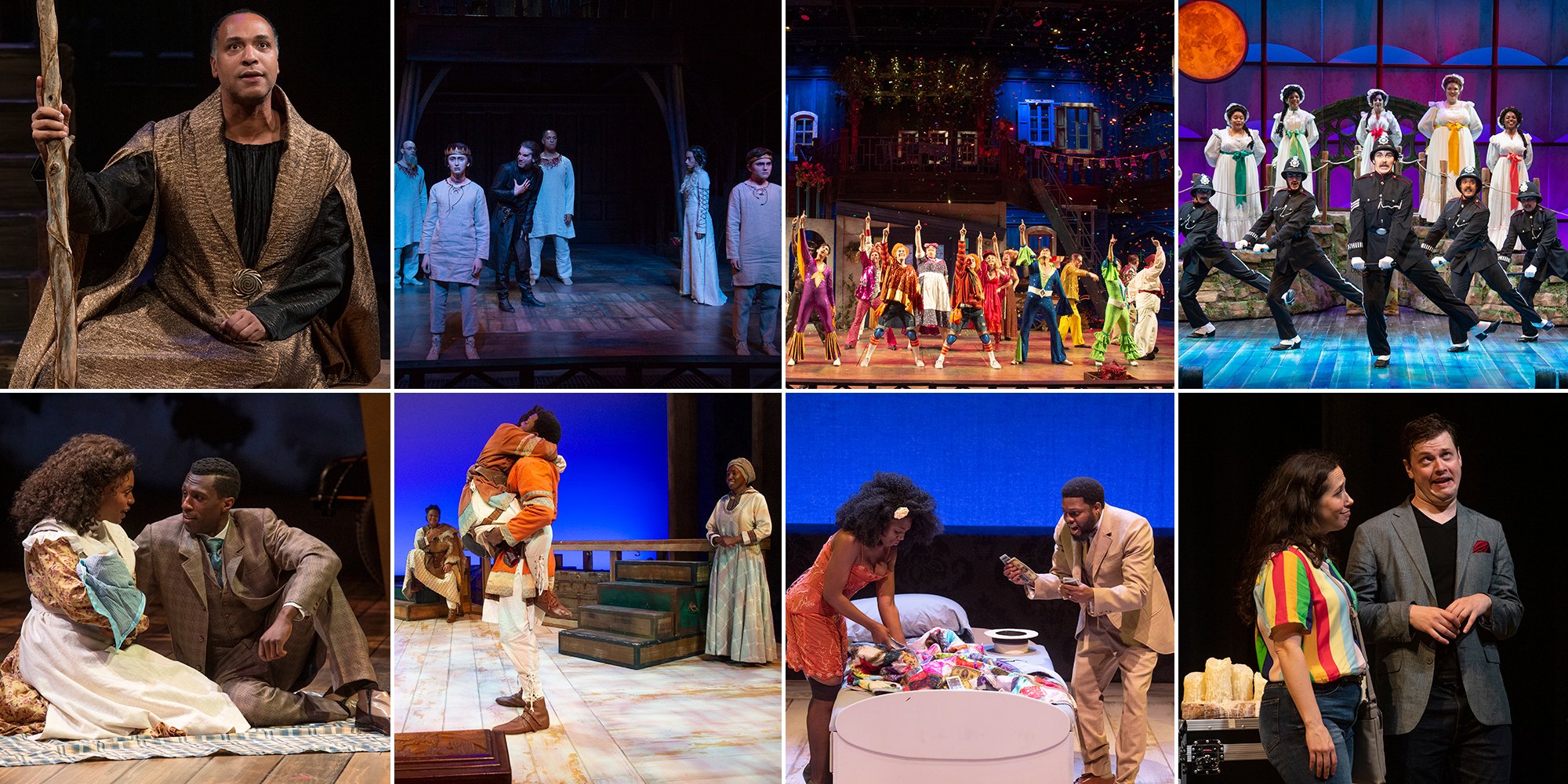 Photos from the 2021 season, top left then clockwise: René Thornton Jr. as Gower in Pericles*, a scene from* Richard III*, a scene from* The Comedy of Errors*, a scene from* The Pirates of Penzance*, Alex Keiper (left) as Jo Smith and Michael Doherty as Vyvian Jones in* The Comedy of Terrors*; Afua Busia (left) as Esther and Yao Dogbe as George in* Intimate Apparel*; Jasmine Bracey as Belarius, Constance V Swain as Imogen, Yao Dogbe as Posthumus, and Afua Busia as Pisanio in* Cymbeline*; and Daria Pilar Redus (left) as Sarah and Ezekiel Andrew as Coalhouse Walker Jr. in* Ragtime*. (Photos by Karl Hugh.)*
By Liz Armstrong
After a wildly successful sixtieth anniversary season in memory of our founder Fred C. Adams, everyone at the Utah Shakespeare Festival has much to be grateful for. With Thanksgiving right around the corner and the start of 2022 coming quickly, it is a time to reflect on the year and think about moments that made 2021 so memorable and that fill us with thanks. 
Here are some of the show-stopping moments we can't stop thinking about from the season:
Pericles
An audience member commented on a post, praising René Thornton Jr.: "We were eager to see Pericles after hearing René talk about it in 2019," said Lisa. "We loved seeing this play . . . and feel delighted and grateful that he led us through the story [as Gower]." 
Properties Director Ben Hohman's creation of the creepy heads used in the play is forever burned in our memories. 
Richard III
"Richard's villainy was so amazing to watch unfold," said General Manager Kami Terry Paul. "I found new depths in our production of Richard III this year."
When the ghosts of his victims returned to haunt Richard, all the family and friends he had betrayed—well, that moment still sends chills down our spines months later. 
The Comedy of Errors
A social media comment from Mandie read, "This show was beyond amazing. I think it's my favorite that I've ever seen at the Festival! [And this is] a non-sponsored, ordinary person review."
This play was a bright and hectic production, and we can't get over the stunning 1970s costumes, adding to that colorful Greek island paradise. 
"I didn't know Ephesus was a real place," added audience member Melanie on an Instagram post. "If I ever go there I'll be picturing '70s fashion and rock-star conjurers."
The Pirates of Penzance
"Cecilia Iole's portrayal of Mable [was so memorable], especially her comedic vocalizing in 'Poor Wandering One,'" said Company Manager Tracy Blackwell.
We can still hear the tap dance battle between the Pirate King and the Policeman—and the roar of laughter from the audience at this point in every performance!
Ragtime
"I was able to take my friend to see Ragtime," said Development Assistant Emily Cacho. "The opening number and the Model-T number were so powerful. We were both sobbing by intermission and after the curtain had closed." 
Coalhouse Walker Jr. holding his beloved wife after she died was heart-wrenching and unforgettable. This was an important and impactful play and it was scenes like this that were truly memorable. 
Cymbeline
"[One of my favorite moments from the season was] Belarus as a female character, which was beautifully performed by Jasmine Bracey," said Blackwell.
Ahhh, and we can't forget about the moment Constance V Swain—as Imogen dressed as Posthumus—jumped into Yao Dogbe's arms. 
Intimate Apparel
"The moment where she [Esther] cuts the quilt, gives him all of the money, and kisses her on the cheek and says he'll be back with the horses," is one of Social Media Manager Astrid Bacy's "favorite" moments. "It still makes me so angry!"
A social media comment on Instagram read: "Emotionally wrecked. This was beautiful storytelling." 
We will also forever remember Esther returning to Mrs. Dickinson's with a broken heart and, despite it all, finding the resiliency within herself to sit back down at the sewing machine and once again create something beautiful. 
The Comedy of Terrors
"I remember gasping in shock when the [fight between the two brothers broke out] and the mannequin went flying across the stage," said Southern Utah University student Abby. "I cried laughing; its arms and legs flopped so pathetically." 
What roaring nights of fun husband-and-wife duo Michael Doherty and Alex Keiper gave us with their performances throughout the season. 
Lastly, we at the Utah Shakespeare Festival are thankful for you, our loyal and amazing patrons. Without you, the Festival, of course, would not exist. 
What were your favorite moments from the season? Follow us on Instagram and Facebook @utahshakespeare and personal message us! We would love to hear what was most memorable for you. 
Have a Happy Thanksgiving!