The Amazing Story of an Amazing Dreamcoat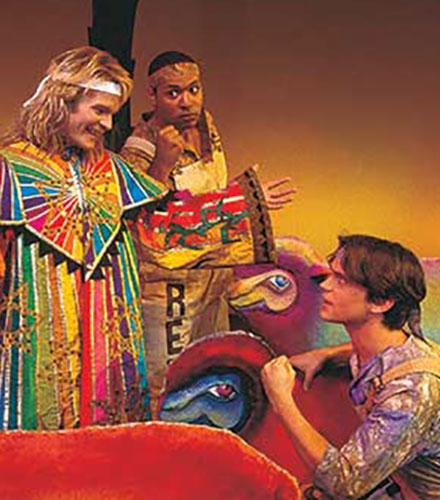 Joseph Heninger-Potter (left) as Joseph, René Thornton Jr. as Reuben, and Matt Bomer as Isaacher in the Festival's 1998 production.
By Kathryn Neves
In the decades since it was written, Joseph and the Amazing Technicolor Dreamcoat has quickly become a classic. Kids everywhere sing along to "Any Dream Will Do" while their parents rock out to the classic Elvis sound of "Song of the King." There are filmed versions, community theatre productions, high school showcases, and numerous professional productions of the musical Bible story. You'd be hard-pressed to find someone—especially in Utah and Nevada—who hasn't seen the show, or at least come in contact with it in some way. But even with all this mania over the musical, most people don't know the fascinating story of how it came to be.
This show was written, as many shows are, by a musical duo: Andrew Lloyd Webber, who wrote the music, and Tim Rice, who wrote the music. Their partnership was eventually very successful, landing them in the ranks of such teams as Gilbert and Sullivan and Rodgers and Hammerstein. They first began working together, even before Joseph, at a very young age; Webber was seventeen, and Rice was twenty when they wrote their first musical together. Only a few short years later, in 1968, they were asked to write a Biblical "pop cantata" for the choir at a local school, the Colet Court School in London choir.
The goal was to write something poppy and fun; something short that would easily captivate children and teach them the Bible story of Joseph in Egypt. So, the duo got together and wrote a fifteen-minute show. It was filled with zany characters and lots of fun musical styles— pop, rock, country, calypso, you name it.
But Rice and Webber didn't just stop there. They kept working at it, adding bits and pieces here and there, until it was around twenty minutes long. At this point, the project started getting attention. Positive feedback and review led to more expansion, until the show was thirty-five minutes long. It was at this point that the show was first published in 1969. The company Novello picked it up and ran it alongside other Biblical pieces in their catalogue. Decca Records recorded the production with Tim Rice himself as Pharaoh!
And for a while, Joseph stayed as it was. Tim Rice and Andrew Lloyd Webber went on to write yet another Biblical musical: Jesus Christ Superstar. This show was immensely popular, and Rice and Webber realized that there was still quite a market for this sort of thing. So they went back to Joseph, promoting it and revising it, adding more and more. Theatre companies began to pick it up, putting on performances that continued to evolve the piece. Then, in 1973, the show had its first West End run.
This Joseph was a little different than the one we know and love today. Today's Joseph has practically no dialogue; instead, the show features a "sung-through" score in between the big musical numbers. But in the 1973 production, all of that was actually part of a separate piece that ran before the show, known as Jacob's Journey. People loved it. They got hooked by the varied music and the universal story of families. So, Webber and Rice kept working. They combined Jacob's Journey with Joseph, and finally—after almost a decade of work—the first performance of the what we know today as Joseph and the Amazing Technicolor Dreamcoat was born.
Even though the musical has been around for about half a century, its popularity hasn't faded. Schools, theatre companies, and communities around the world have embraced the story of Joseph, his flawed-but-funny brothers, and of course that beautiful coat. What's not to love? After all, this is the Festival's second time putting it on! (The Festival's first production was in 1998, with the now-famous Matt Bomer playing Isaacher.)
So whether you've seen Joseph and the Amazing Technicolor Dreamcoat one time or one hundred, be sure to make your way to Cedar City this summer to enjoy one of the most fun pieces of theatre you'll ever see. With the brilliant Brad Carroll at its helm and the awesome talent of Utah Shakespeare Festival actors and technicians, it's sure to be a performance you won't forget." Close your eyes, [we'll] pull back the curtain," and you'll see for certain just how great this show really is.