The Comedy of (T)Errors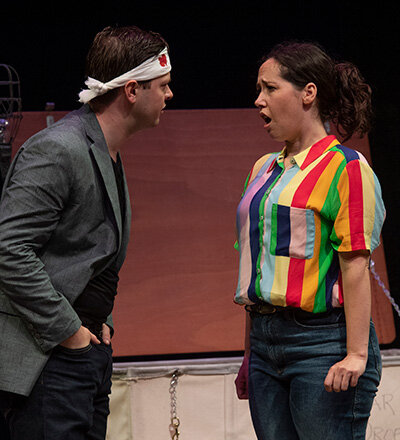 Michael Doherty (left) as Beverley Jones and Alex Keiper as Fiona Smith in The Comedy of Terrors.
By Kathryn Neves
What is the only thing better than a farce? Two farces, of course! This season at the Utah Shakespeare Festival includes two mad-cap comedies that'll leave you in stitches. The first, of course, is William Shakespeare's The Comedy of Errors. The second is a hilarious modern comedy called The Comedy of Terrors by John Goodrum. Goodrum's play follows in the footsteps of Shakespeare's classic slapstick; though they are two completely different stories, you'll find plenty of things in common when you come to see them both this season.
Shakespeare loved a good set of twins. Both Twelfth Night and The Comedy of Errors star twins who get into all sorts of mishaps and misadventures! After all, twins are an easy way to get some great comedy into a story. Goodrum's play is no different: just like The Comedy of Errors, The Comedy of Terrors stars not one, but two sets of identical siblings! The twins and triplets in The Comedy of Terrors will will have your head spinning with their antics. Of course, Goodrum's twins (and triplets) have different names, unlike Shakespeare's Antipholuses and Dromios. But each play explores the hilarity that ensues when long-lost twins come together again.
Mistaken identities are a key factor in both Errors and Terrors. By the time each play gets going, the characters' heads are spinning as they try to keep track of each other. As an audience, we have a great view into their confusion and mishaps. It takes a lot of wit and cleverness to be able to weave these characters' identities so seamlessly; both Shakespeare and Goodrum do a great job of letting the audience know who is who, while keeping up the hilarity.
Maybe the best part of each of these plays is the physical comedy— and the Festival has some great actors to do it! Physical comedy is a key component to both of these plays. Shakespeare follows classic slapstick in The Comedy of Errors; taking techniques from the slapstick of commedia dell'arte, he has kept audiences roaring with laughter for centuries! The Comedy of Terrors, too, makes physical comedy a very important part of the show. You'll watch characters running back and forth, actors jumping into different roles, fistfights, and all sorts of shenanigans that will keep you entertained until the final curtain call.
Even though they are not the same show, you'll find that Goodrum's comedy pays homage to one of Shakespeare's classics. It's one of the funniest farces you'll ever see— and after all, everyone loves a good farce. You won't want to miss it!