The Greenshow: Q&A with Director Britannia Howe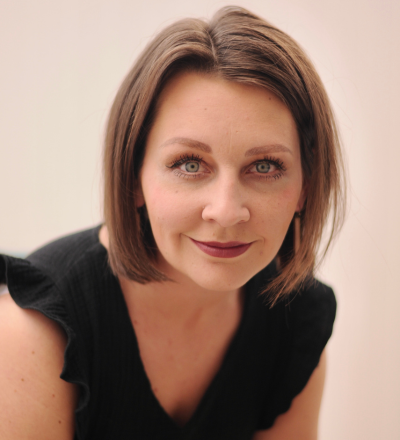 Director Britannia Howe has been an integral part in the production of The Greenshow at the Festival for years, including the four seasons she wrote and directed The Greenshow. She made her main stage debut at the Festival in 2021, directing Cymbeline. Howe has also directed at Cabaret Theatre, the Eugene O'Neill Theatre Center, Women of Will, and Innovative View Theatre Company.
This season, Howe has written and directed two Greenshow performances—The Hills of Appalachia and English Regency Garden, inspired by our 2023 productions of A Midsummer Night's Dream and Jane Austen's Emma The Musical, respectively. The Festival was able to catch up with Howe and visit with her about her process as a director and theatre practitioner.
The Festival: Why were you excited to direct The Greenshow again this season?
Howe: I love The Greenshow. Being overwhelmed with the task my very first year, I remember walking into Special Collections at the Southern Utah University library and asking for the scripts of the past Greenshows. They handed me a big cardboard box and in it I found sheet music, scripts, and even Barbara Adams's (late Founder Fred C. Adams' wife) handwritten notes of "Greenshow Goals." What a legacy! That was where I started, with Barbara's handwriting.
The Festival: As audience members, what should we watch for in these performances that would help us enjoy them even more? Are there any special "Easter eggs" you have implemented as a director?
Howe: The Hills of Appalachia was inspired by the fairy magic in Midsummer. When I write Greenshows, I like to create a setting first. This gives me a box I can work inside of or a canvas I can start painting. I knew I wanted to make a night with Pixie Magic, but we have already seen English and Irish fairies on our stages. I started researching about Appalachia and I found it carries pixie folklore.
Regency Night has Jane Austen "Easter eggs" and most of the jokes I wrote are celebrating or poking fun at the relationships or story structure of her writing.
The Festival: What do you hope audience members take away from seeing The Greenshow?
Howe: I hope audience members feel like they are watching a new Greenshow but also feel nostalgia hearing the folk songs and stories of the past.
The Festival: Why should people come see The Greenshow?
Howe: The Greenshow is a community celebration. We offer three differently themed Greenshows, including the two I wrote plus Paiute Heritage and Celebration created by the local tribe. There's something for everyone––humor, dance, music, and narrative.
In addition to the free daily Greenshows, the 2023 lineup of production include Romeo and Juliet, A Midsummer Night's Dream, Jane Austen's Emma The Musical, A Raisin in the Sun, The Play That Goes Wrong, Timon of Athens, and Coriolanus. Tickets and information are available by calling 800-PLAYTIX or visiting bard.org.