"The King" Is Back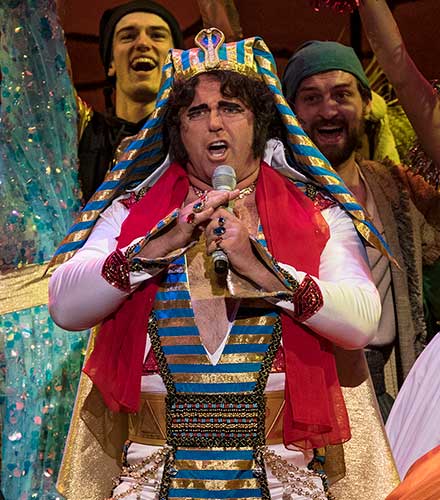 Russ Benton as the Pharoah
By Kathryn Neves
There are countless reasons to come and see Joseph and the Amazing Technicolor Dreamcoat this season: song and dance, fun characters, and a universal story that everyone can relate to. But there's one particularly compelling reason to come to Cedar City and see this show: the character of the Pharaoh, a.k.a. Elvis, the King himself, played by fantastic actor Russ Benton.     
Watching Russ onstage is an awesome experience in its own right, with his great voice, a talent for '50s style rock-'n'-roll dance moves, and an Elvis impression fit to beat any of the Kings in Las Vegas chapels and hotels. But there's an added benefit to seeing Russ as the Pharaoh. This is Benton's second time playing the Pharoah/Elvis: in the Utah Shakespeare Festival's first production of Joseph, directed by Fred Adams in 1998, Russ was— you guessed it— a much younger Pharoah, a young version of Elvis.
"Now I am the old man in the show, but back then we were all young and full of energy," said Benton. "I was a much younger man when I played it last. So the idea that [Pharaoh] is an aging rock star this time around makes it much more fun to play now."
Those who have seen the show will know that it's no small feat to play the Pharaoh. The amount of energy it takes to wear the Elvis jumpsuit and do the famous swivels, splits, and air guitars is frankly astounding. But it certainly pays off: audiences scream and cheer when Benton goes into his routine.          
"It is certainly more difficult to put out the kind of energy and moves that I used to, but that makes it all the more funny now. I enjoy playing with the idea that, although [Pharaoh] believes he can, he really can't keep up. . . . He is just an absolute narcissist, and despite his execution of the number, still sees himself as godlike," says Benton. His zany characterization of the beloved character has audiences in stitches every performance.          
Audiences who got the chance to see Joseph twenty years ago remember the production with great fondness— and so does Benton. "My strongest and fondest memory was getting to work with Fred Adams, a man who has been a teacher, director, and friend for so many years," he said. "We had an absolute blast finding the funny moments in the show."
His love for this show continues to this day. "I've really enjoyed working with the director, Brad Carroll," he says, "and really trying to make sure that, although we have fun, we really pay respect to the story and find our way to the funny through that. . . . I really love this team and cast, and I find their creativity and energy remarkable."     
All in all, Joseph and the Amazing Technicolor Dreamcoat is definitely worth seeing this season. Whether you've seen it once or a hundred times, there's always something new to be learned, something new to enjoy. "It's a story of family, forgiveness, and redemption. I think that speaks a lot to people," says Benton. "It's just great fun, with great music and lyrics that are so catchy and fun to listen to and sing along." So, drop in and catch on of Lloyd Webber's finest this year— and keep your eyes peeled for a familiar Festival face!