The Magic of Strike: Making Sets Vanish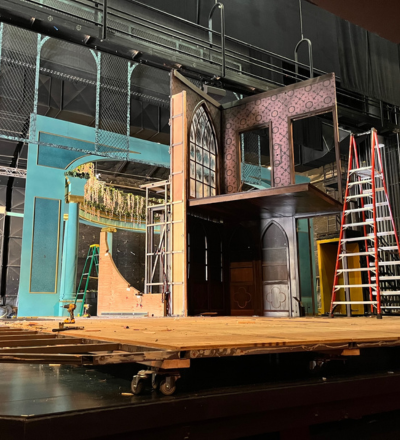 Curtains have closed on the 2023 season but there is still an immense amount of work to be done after a busy year of production. Properties Director Ben Hohman and Production Manager Richard Girtain have revealed just where— and how— the sets disappear when Festival shows close. 
Strike 
The process of removing props, scenery, and equipment is referred to as strike.
"Strike is really intense," Girtain said. "We are trying to do a lot in a short amount of time. We have six months to put [everything] together, perform for three months, and then a week to take everything down." 
Although it's a process, Girtain noted that it's also a cathartic end to the season.
"You feel kind of sad, but it's the natural end of the process," Girtain said. "We are ready to start anew with the next season, because we feel good about what we did. It's the life cycle of theatre."
Hohman and his team, the Properties Department, come in first and "undress" the set. 
"Scenery builds the house, and Props makes it a home," Girtain explained. "Everything you would take if you were loading a moving van is a prop, while scenery is the walls left behind." 
The scenery, or "walls" of the set are removed and finally, lighting and electrics remove their equipment. 
Props 
"We load trucks and transfer everything to the props warehouse, which is about 6,000 square feet," Hohman said. 
There is also a 3,500 square foot tent, where scenery is stored. On the same five acre property, there is also a storehouse for costumes. 
"It will take us anywhere between two weeks and two months, depending on the shows, to get everything taken apart and put away," Hohman said. "All of the [props] are in an inventory software, and so pictures and measurements are taken and stored." 
Although most everything is stored for future Festival use, some is donated or recycled. 
"For example, there are some pieces that will not be used again, like the oversized grandfather clocks from The Play That Goes Wrong that an actor had to fit in," Hohman said. "So, we are breaking down and recycling the aluminum and just keeping one of the doors."
Some props are so specialized that they probably won't see Festival stages again, due to the unique preferences of different directors and designers. These pieces are broken down into smaller, more reusable parts, recycled, or even sold to schools at the annual Shakespeare Competition. 
Hohman and his team also display some props in their warehouse as a reminder of the work they've done.
"We throw away very few things," Hohman noted. "If a chair is broken and can't be repaired, we will pull the arms off the chairs and store those for future use."
The entire process of putting away and organizing props is a long one. 
"People think once you're out of the theatre, you're all done, but we won't be done putting everything from this season away until early December," Hohman said. "We get it finished right around the time we really have to start getting ready for next year." 
Then, the process starts all over for next season.
"It takes months to build everything and get everything to the theatre, and then [seemingly] two days to make it all disappear," Hohman said.  
Smaller props are sometimes sold to interested patrons. The Guild of the Festival sold rosettes created for the set of A Midsummer Night's Dream in the gift shops this season. They've also sold meat pies from Sweeney Todd, maps from King Lear, and bags made from extra costume and upholstery fabric. 
"We made six dog portraits for The Play That Goes Wrong," Hohman said. "We are thinking about offering to sell those." The Guild uses these sales as fundraising for the Festival.
Scenery 
As the production manager, Girtain oversees all physical backstage production, including lighting, sound, props, hair and makeup, costumes, paint, carpentry, and more. All these departments are busy with their own strike process.
"During strike, we try to get the scenery to a neutral place," Girtain said. "For example, we will paint the floor black."
Girtain said he looks at keeping items that are "stock building blocks."
"I like to think of them as Legos, like platform sections that are standard sizes," Girtain said. "Two-thirds of the platforming are taken from stock each year. Speciality items like doors, windows, and hardware are also put back into stock."
There are some aspects of the scenery that are very custom, like the immense amount of steel used for the walls of The Play That Goes Wrong. 
"The vast majority of [that steel] was recycled," Girtain said. 
This year, duplicates of the scenery for The Play That Goes Wrong were given to the Southern Utah University Film Department to use in their studio.
Enoch Elementary, who does a yearly production of A Midsummer Night's Dream, will put this year's wall panels of the same production to good use for many shows to come. 
"We left the floor of the Engelstad Theatre shows out for the Southern Utah University's Theatre Department, who repainted it for their fall production of Twelfth Night," Girtain said.
Ultimately, the props and scenery that aren't stored for future productions at the Festival are taken care of in various ways. 
"We do our best to reuse, recycle, donate, or sell, so that the items continue to have a new life," Hohman said. 
Not everything can be given away or sold, as the props and scenery are assets of the Festival and Southern Utah University. Special permission is often needed, but for those interested in obtaining certain set items, contact Hohman at propsdir@bard.org or Girtain at productionmanager@bard.org.