The Musical that Rocked the World Now at the Festival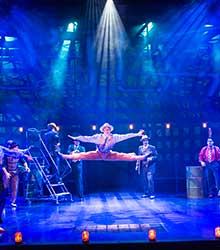 By Allison Borzoni
The musical Guys and Dolls, running at the Utah Shakespeare Festival through September 1, rocked the world on its debut and nearly every reboot since. Because of that illustrious history, it's not always easy to take on this celebrated oldie, but director Peter Rothstein, new at the Festival this year, has met the challenge.
Guys and Dolls is a classical musical theatre tale, and it can be difficult to approach something that's been performed successfully so many times before. "Like all great shows, they have different things to say to each generation," said Rothstein. "When I first revisited the script about a year ago, I was struck by how two people who appear to be polar opposites when it comes to ethics, politics, and their world views can fall in love." With the political climate we live in today, Rothstein looks forward to showing what Guys and Dolls can tell all of us about people and differences.  
There's a lot to live up to when a theatre decides to perform Guys and Dolls. Like every show, there are's challenges, and this musical's heritage is one of those difficulties: "I think people have expectations about what Guys and Dolls is supposed to look like," he said. "So we have created a design that both meets those expectations and surprises us." Edward Hopper is a part of the design inspiration for this production, according to Rothstein. He was a realistic American painter who was famous for his oil paintings, which displayed common features of American life and rural landscapes.
You may be more excited to hear "Luck Be a Lady" than postulate about design choices, but audiences aren't the only ones looking forward to seeing the production. The musical's impact has gone much farther, as Rothstein described: "It may be the guide book to the musical comedy. It has had a profound impact on the art form. Scholars, producers, and theater educators still look to Guys and Dolls for plot structure, song placement, and character development." It'll be a treat to see the archetype of musical comedy in all its glory this summer.
Rothstein has done the show before on  at the 5th Avenue Theatre in Seattle, so he's bringing that exciting experience to the stage for the Festival as he directs the musical. Guys and Dolls is returning the favor by bringing something new to the table for Rothstein—it's taking him to Cedar City for the first time. "I'm excited to make my debut with the Festival, but I'm equally excited to discover and explore beautiful southern Utah," Rothstein said. 
So give Rothstein a warm welcome, and maybe practice "More I Cannot Wish You." It's his favorite song from the musical. Try not to sing it during the performance, but maybe you can whistle it as you walk by the theatres on your way to the show.