The Place the Festival Was Born!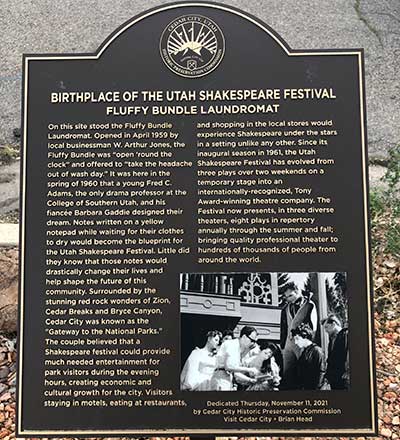 By Liz Armstrong
For the Utah Shakespeare Festival, it all started in a laundromat.
And now the Cedar City Historic Preservation Commission and Visit Cedar City • Brian Head—The Iron County Tourism Bureau have installed and dedicated a plaque highlighting the place where the idea of the Utah Shakespeare Festival was born.
Titled the Birthplace of the Utah Shakespeare Festival, the memorial plaque is located near 100 North and 100 West streets on the east side of 100 West where the Fluffy Bundle Laundromat stood in the 1950s and '60s
Local businessman W. Arthur Jones opened the Fluffy Bundle in 1959, and a young Fred C. Adams and his financée Barbara Gaddie were doing their laundry there in the spring of 1960 when the idea of a Shakespeare festival was born. At this time, Fred was the only drama professor at what was then the College of Southern Utah. 
"Notes written on a yellow notepad while waiting for their clothes to dry would become the blueprint for the Utah Shakespeare Festival," the plaque reads. "Little did [Fred and Barbara] know that those notes would drastically change their lives and help shape the future of this community." 
Those notes did change the Cedar City community. Over sixty years later, the Utah Shakespeare Festival has entertained hundreds of thousands of people from around the world and is recognized as one of the best professional theatre events in the nation. 
It is with tender hearts that the Festival reminisces on the birthplace and beginning of Fred and Barbara's dream. Without those inspired and candid notes scrawled during mundane daily chores in the Fluffy Bundle Laundromat, the Festival would not be the theatrical and entertainment jewel it is today.