The Playwrights Behind the Comedy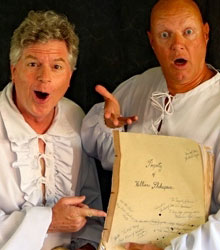 Austin Tichenor (left) and Reed Martin
By Allison Borzoni
After you have seen William Shakespeare's Long Lost First Play (abridged) this summer, you may find yourself asking: "Who are these guys that could take Shakespeare's canon and turn it into such hilarity?" Well, these guys are the enigmatic Reed Martin and Austin Tichenor. You can thank them for this vaudevillian play coming to the Utah Shakespeare Festival this season. Martin, Tichenor, and the play itself are all from the Reduced Shakespeare Company (RSC) which has left audiences in tears of laughter ever since the RSC began in 1981.
The Reduced Shakespeare Company got its start by reducing Hamlet into a twenty-minute, pass-the-hat act at Renaissance fairs in California. The original company members, Jess Borgerson, Adam Long, and Daniel Singer, kept the audience watching with their fast and physical comedy style that would earn them the name "Bad Boys of Abridgment." The boys at the RSC then wrote The Complete Works of William Shakespeare (abridged) and performed it at the Edinburgh Fringe Festival. Since that popular performance, the RSC has broken records for longest show-runs at multiple theatres and has even succeeded in having more shows running at once in all of London than Andrew Lloyd Webber. The company has sold out shows for weeks on end and has performed on an EasyJet plane at 37,000 feet, bringing Shakespeare to the cramped passengers onboard and setting the Guinness World Record for Highest Theatre Performance.
The RSC has condensed many a production, book, and world history into lengths suitable for the unfocused crowds of today, with Martin and Tichenor co-writing a majority of them: namely, The Complete History of America (abridged), The Bible: The Complete Word of God (abridged), Western Civilization: The Complete Musical (abridged), All the Great Books (abridged), Completely Hollywood (abridged), The Complete World of Sports (abridged), The Ultimate Christmas Show (abridged), and The Complete History of Comedy (abridged).
Noticing a pattern here?
But who are Martin and Tichenor, the men who (purportedly) found both the bones (not important) and Shakespeare's long lost first play (more important) buried in a parking lot in England?
Well, Reed Martin is a man with many schools beside his name: UC Berkeley, UC San Diego, The Bill Kinnamon School of Professional Umpire Training, and Clown College. He has performed for the Ringling Brothers/Barnum and Bailey Circus, as well as at the White House and Madison Square Garden. Once he joined RSC in 1989, he co-created and performed in many of its original productions around the world. He's also written for BBC, NPR, Britain's Channel Four, RTE Ireland, Public Radio International, The Washington Post, and Vogue.
Martin and Tichenor have also written and published together The Greatest Story Ever Sold and Reduced Shakespeare: The Complete Guide For the Attention-Impaired (abridged).
Meanwhile, Austin Tichenor has written twenty plays and musicals for youngsters and has adapted Kafka's Metamorphosis into a stage production, Dancing on the Ceiling. Tichenor also attained degrees from UC Berkeley and Boston University and joined the RSC in 1992. He has kept busy both co-writing and performing for the RSC as well as appearing in recurring roles on 24, Alias, Felicity, Ally McBeal, and The Practice. Tichenor produces and hosts an award-winning podcast: Reduced Shakespeare Company Podcast, one of the Top Ten Podcasts for Theatre Fans according to Broadway World.
However, the most convincing reason to trust Martin and Tichenor with the totally authentic, sixteenth century script of Shakespeare's long lost first play is that in the game "Six Degrees of Kevin Bacon," they have a Bacon Factor of One. This is due to their roles in the show Balto, in which Kevin Bacon played the lead role. Alongside Balto, these experts of reduced theatre have repeatedly performed at places across the world like Australia, Canada, Japan, Singapore, and Hong Kong.
According to the pair, their work will delight and astound Festival audiences and probably just astound Shakespeare scholars. Don't miss William Shakespeare's Long Lost First Play (abridged).