The Simpsons Writer to Visit the Festival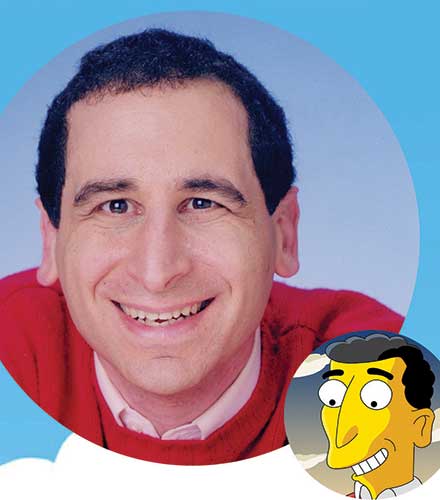 CEDAR CITY — Mike Reiss, writer and producer for the wildly popular animated television show The Simpsons, will be at the Utah Shakespeare Festival and Southern Utah University August 29–31. While here, he will be workshopping his hilarious play Shakespeare's Worst! A Play on a Play as part of the Festival's Words Cubed new play readings, as well as participating in a lecture/presentation and book signing sponsored by SUU's premier event series, A.P.E.X.
Reiss' new play will be presented as a staged reading in the Eileen and Allen Anes Studio Theatre on August 29 and 31 at 9:30 a.m. This hilarious and irreverent play, co-written with Nick Newlin, features a small town theatre company performing The Two Gentlemen of Verona. But one of the cast members is very unhappy: his career is going nowhere, he's tired of the show, and he wants out—now. The reading will be followed by a discussion between the playwright, actors, and audience members.
Tickets are $10 at the Ticket Office, online at bard.org, or over the telephone at 800-PLAYTIX.
Next, SUU's A.P.E.X. event series will feature Reiss in a one-hour presentation at 3:30 p.m. August 30 in the Great Hall at the Hunter Conference Center. It is a fun-filled presentation, loaded with rare cartoon clips, as Reiss shares the stories, secrets, and scandals from the long-running series. Afterwards, he will conduct a short question-and-answer session.
Then, he will move into the Great Hall lobby and sign copies of his book Springfield Confidential: Jokes, Secrets, and Outright Lies from a Lifetime Writing for The Simpsons. Copies of the book will be available for sale.
Reiss has won four Emmys and a Peabody Award during his twenty-eight years writing for The Simpsons. In 2006, he received a Lifetime Achievement Award from the Animation Writers Caucus. He has also written nineteen children's books and jokes for such comedy legends as Johnny Carson, Joan Rivers, and Garry Shandling, as well as for Pope Francis! For his comedic contributions to the charitable group Joke with the Pope, in 2015 the Pope declared Reiss "A Missionary of Joy."