The Story of "The Other"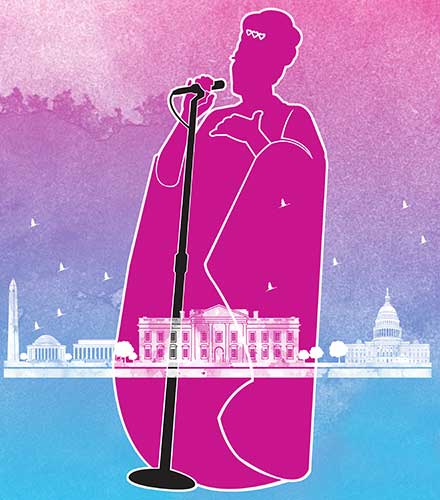 By Kathryn Neves
What do slaves, merchants, Greek warriors, soldiers, and painfully shy foreigners all have in common? Maybe not a lot. At first glance, this season looks like an eclectic collection of stories and tales, all different and from different places and times. There's nothing they have in common— or is there? Well, look closer. There's a thread that runs through nearly all of the plays this season at the Utah Shakespeare Festival: the story of "The Other."
The Other? you might ask. What do you mean, The Other? What a broad, vague term. Well, what better to cover such a diverse group of stories than this broad term? Most of the Festival's plays this season focus on telling stories about people outside the "in" group; whether it be religious or racial minorities, or foreigners and dreadful wars, this season is all about tolerance. It's about learning to respect, appreciate, even love "The Other."
Big River zooms in on the life of an individual African American in the midst of tense racial situations. Big River, the musical version of Mark Twain's The Adventures of Huckleberry Finn, focuses on Jim— a runaway slave seeking freedom along the Mississippi River. Through Big River, Huck Finn learns to love Jim as a father figure and a friend; he realizes that Jim is a person too, even though the entire culture of the South says he isn't.
Othello, too, focuses on racial differences— and racial similarities. It's the story about a Moor who becomes a great military general despite huge barriers in his way, who ends up losing it all because of his unfounded jealousy. Much of the play is about Othello's success despite his status as a Moor. In Shakespeare's day, a Moor could refer to any number of things. It was usually a term used to describe anyone that wasn't white and European. Likely, by Moor, Shakespeare either meant someone of African descent or someone of Arab descent. In Othello, we see how Othello's status of an outsider leads the villain, Iago, to extreme jealousy and hatred. Because Iago cannot and will not tolerate any "others" in his world, he contrives to make Othello lose everything he has worked for— costing the lives of more people than even Iago bargained for. It's the fear and hatred of "The Other" that causes the great tragedy.
Then, of course, there's The Merchant of Venice. This play is a favorite for many; afterall, who doesn't like stories about love overcoming impossible odds? But this play is about more than Bassanio and Portia's whirlwind romance. Merchant is also about Shylock— a Jew who has become bitter and angry after years of abuse at the hands of his fellow men. In The Merchant of Venice, we see that Shylock (and maybe many others) has lost sight of what it means to be human, because he has been treated with intolerance throughout his whole life. You could say that Shylock's story is more compelling than Bassanio and Portia's, for the simple fact that his story is more important. We learn from Shylock that if we hate members of the "other" group, the "other" group may learn to hate us in return.
The Foreigner is another one of those plays that everyone seems to love. It's funny, it's zany and farcical, and it's so relatable. But this play, too, at its heart, is about "The Other." Throughout the play, Charlie (out of his extreme shyness) pretends to be a foreigner. And instead of being ignored, as he expected, everyone in the play becomes fascinated with him. We see some of the characters, like Ellard and Betty, treat him like a friend. Charlie makes friends with people he would never have connected with before. And then we see other characters throughout the play who don't befriend him— they hate him. Even though they've never met Charlie before, they know he's a "foreigner" and that's enough for them. They don't bother to take the time to get to know Charlie, and before anyone can say "blasny-blasny," the whole gang is caught up in a mess of intolerance and danger.
And then there's An Iliad. Everyone knows the story; the ancient Greeks and the antics of the Trojans are pretty much universal. Who didn't have to sit through hours of lectures in high school? But I can bet you've never seen the story presented this way. In this one-man show, we see the Trojan war, not as a fight for honor and glory, but as a horrendous waste of life. The Greeks hate the Trojans, and the Trojans hate the Greeks. Each side becomes "The Other" to everyone else. And tragically, we see what can happen if our hatred and fear of "The Other" goes too far.
If there's one thing you can take away from this season, it's that the idea of "The Other" shouldn't matter. After all, everyone's an outsider to someone else. No matter what our skin color is, what our political beliefs are, our religions or our ideals, everyone underneath is the same; we're all human. There is no "other"; there's only us.