The Tour of Utah Returns to Cedar City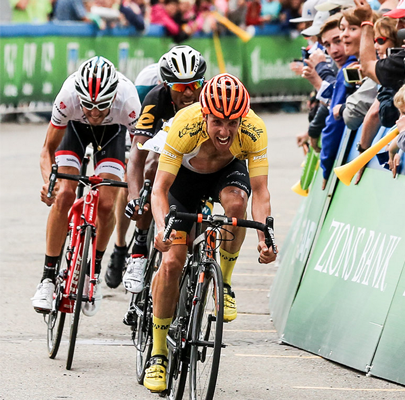 The 2015 Tour of Utah
The Larry H. Miller Tour of Utah, billed as "America's toughest stage race," is returning to Cedar City July 30 for the popular team presentations and on August 1 for the finish of Stage 1 of the race.
Now in its 12th year, his week-long professional cycling race features 16 of the best men's teams in the world. It will cover 705 miles of racing and 52,825 feet of climbing as it weaves through two national parks, two national monuments, four national forests, and two state parks.
Cedar City leads off the series of events with the popular Tour of Utah Team Presentation presented by America First Credit Union on Saturday, July 30 at the Utah Shakespeare Festival's Ashton Family Greenshow Commons. Cycling fans are invited to meet and greet members of the 16 professional cycling teams who will be competing in this year's Tour of Utah. They are encouraged to bring blankets or chairs to enjoy the one and one-half hour program. Each team will be introduced on an event stage and top riders will be interviewed by announcer Dave Towle. This free event takes place from 5 to 6:30 p.m.
Following this, spectators are invited to stay and enjoy *The Greenshow,*a free, 30-minute program of dance, music, and light-hearted entertainment that is part of the Utah Shakespeare Festival. The production is free and takes place on the same stage as the team presentation. 
For those who want a VIP Experience Package on Saturday for the team presentation, tickets are available online for $125 per person. The VIP Experience Package provides an exclusive private viewing area along with light refreshments. The VIP area is adjacent to the stage, with some athletes stopping by to connect with fans.
On Monday, August 1, fans will want to return to witness the finish of Stage 1 of this breathtaking event. Stage 1 begins at Zion Canyon Village, winds through Dixie National Forest to the crest at Cedar Breaks National Monument, and then down Cedar Canyon, concluding with three downtown circuits, 2.5 miles each lap to finish at the corner of 300 West and Center Streets, near the new Beverley Center for the Performing Arts, home of the Utah Shakespeare Festival and the magnificent new Southern Utah Museum of Art.
 Fans will be able to watch this fast-paced finish from the sidewalks and other vantage points around the course.
The Larry H. Miller Tour of Utah continues to be free to all spectators. It is the first internationally-sanctioned cycling competition in North America following the Tour de France. More information about the Tour of Utah, the host venues and the teams can be found by visiting www.tourofutah.com, as well as social channels Facebook (tourofutah), Twitter (@tourofutah, #TOU16), Instagram (thetourofutah), and YouTube (tourofUtah).