Things You May Not Know about King Lear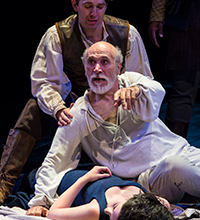 By Liz Armstrong
King Lear, which is part of the Utah Shakespeare Festival's 2022 season, is one of Shakespeare's most popular plays. It has been produced and studied (along with Hamlet) as one of the world's greatest tragedies. But even with all this notoriety, the soaring and stormy play has a number of interesting tidbits that you may not be aware of. Try out these ten:
1 - One of the ideas most studied ideas surrounding the play is the character development of King Lear himself. Director Vincent J. Cardinal sums up his thoughts succinctly: "The journey of King Lear is of a man who demands love and admiration who then becomes a man who finally deserves love and admiration."
2 - This is the Festival's eighth production of King Lear. The first production was in 1965, followed by productions in 1972, 1979, 1992, 1999, 2007, and 2015.
3 - In past seasons at the Festival, King Lear has been played at the Festival by Tony Amendola, Dan Kremer, William Metzo, Harold Gould, Anthony Defonte, William Wright, and Howard Jensen.
4 - Shakespeare wrote King Lear to be eighty years old or more—or "over four score." Naturally, this has resulted in many actors who have played the king who were much younger than Shakespeare envisioned.
5 - The story of the old king has not always had such a tragic ending. The source of Shakespeare's play (King Lier, written in 1594 or earlier) had a somewhat happier ending, with Lear surviving and being restored to his kingdom. Also, in 1692 Nahum Tate rewrote King Lear to have an even happier ending. In this version, Cordelia survives, is named queen, and is betrothed to Edgar.
6 - Tate's more upbeat version of the play was hugely popular and was performed for over a century—until the early 1800s, when Shakespeare's status as the English poet of poets became entrenched in the national consciousness.
7 - The character of King Lear hit too close to home during the reign of King George III and was banned from 1810 to 1820. Lear's mental illness paralleled the real life ruler's struggles just a bit too much.
8 - King Lear has inspired numerous modern writers. For example, Jane Smiley's 1992 novel A Thousand Acres chronicles a successful farmer's plans to retire and turn over his farm to his three daughters. Also, according to Danny Strong, the co-creator of the Fox television series Empire, which features a hip hop mogul and his three sons, was inspired by King Lear.
9 - You may not expect it, but the play includes a plethora of references to nature—over forty—and characters being compared to wolves, snakes, and sparrows. 
10 - Sigmund Freud, the founder of psychoanalysis, thought Lear's daughters represented the three fates in Roman and Greek mythology, with Cordelia representing Atropos or death.