Things You May Not Know about The Sound of Music
By Liz Armstrong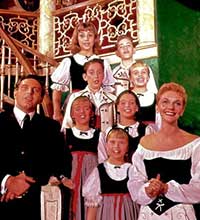 Based on the memoir of Maria Augusta Trapp, published in 1949, The Sound of Music has become one of the world's most beloved musicals. The New York World-Telegram and Sun even wrote that it is "the loveliest musical imaginable." Yet, even as widely-known as this musical is, there is much you may not know. For instance: 
1 - The original 1959 Broadway production—which starred Mary Martin and Theodore Bikel—won five Tony Awards (including Best Musical) out of nine nominations. 
2 - Among the other Tony Award nominations was Best Featured Actress, in which the entire children's cast was entered as a single nominee. This is especially interesting, noting that two of the children in the Broadway musical were boys. 
3 - The Broadway production closed in 1963 after a startling 1,443 performances. The Broadway cast album sold over three million copies.
4 - This is the last musical playwright Oscar Hammerstein wrote, dying a short nine months after it opened on Broadway.
5 - As the original Broadway musical was experiencing wild success, the first London production opened in 1961. Later, it was adapted into a film starring Julie Andrews and Christopher Plummer. This film won five Academy Awards, including Best Picture.
6 - Plummer hated the 1965 movie so much he called it "The Sound of Mucus." Later, he admitted he was often drunk during filming.
7 - The original title of the play was Love Song. Yes, we agree: The Sound of Music has a better ring to it.
8 - In the 1981 London revival of the musical, actress Petula Clark took on the role of Maria von Trapp at age 49. Many believed her to be "too old" to play the role convincingly, but when Maria von Trapp herself attended the premiere, she believed Clark to be the best Maria to ever be cast. 
9 - In 2013, Carrie Underwood starred as Maria in the NBC television series, and Audrey Hepburn was originally considered to star in the 1965 film.
10 - Ironically, the musical has seen roaring success everywhere but Austria. One theory may be that Austrians don't like how their culture is displayed in the musical. Others believe that they don't want to relive the painful history of the Nazi occupation.
Tickets are now on sale for the Festival's 2022 season which runs from June 20 to October 8. In addition, to The Sound of Music, the season will feature All's Well That Ends Well, Sweeney Todd, King Lear, Trouble in Mind, Clue, The Tempest, and Thurgood. Tickets can be purchased at bard.org or by calling the ticket office at 800-PLAYTIX.