To Imagine or Not to Imagine: Treasure Island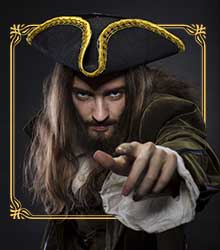 By Allison Borzoni
Treasure Island is a classic story with a cast of characters we've been familiar with since childhood. There have been over fifty adaptations of Robert Louis Stevenson's novel Treasure Island, and most still keep the original characters. Even Black Sails, the television prequel to Treasure Island, features characters like Israel Hands and even Captain Flint himself. The Utah Shakespeare Festival is following this tried-and-true principle this year, by bringing an exciting and adventurous adaptation by Mary Zimmerman's adaptation to the stage—complete with a full cast of swashbuckling pirates.
Billy Bones is the man who kicks off the adventure in the book and the adaptations. Disney's Treasure Island (1950) upped the lowly status of Billy Bones to Captain William Bones. Bill Connolly took on the role of Billy Bones in Muppet Treasure Island, and he became one of the only characters to die on screen in a Muppets movie. Our Billy Bones won't be the first character to die on a Festival stage (I'm looking at you, Polonius), but Billy (played by the Festival's Geoffrey Kent) will definitely lure the audience into the adventure as he warns Jim Hawkins to look out for a one-legged man.
And that one-legged man is Long John Silver himself. Silver has a long history of a complicated father-son relationship with Jim Hawkins. Treasure Island (1950) doesn't make this relationship any easier when Silver holds Jim at gunpoint. Treasure Planet, an animated version of Treasure Island that is set in outer space, also puts Silver's relationship with Jim to the test, when Silver has to either rescue Jim or the treasure. Rest assured, Muppet Treasure Island makes Silver out to be a bit more of a villain, since the movie ends with him marooned on Treasure Island with a singing Moai head. Although our Treasure Island won't be breaking out in a chorus of "Cabin Fever" as they do in Muppet Treasure Island, the play is full of music perfect for pirates and hidden treasure. And, watch out for Michael Elich, the new-to-the-Festival actor who is playing Long John Silver; he will demand your attention with his charismatic control over the mutinous pirates and his burgeoning friendship with Jim Hawkins.
Although Billy Bones and Long John Silver have consistently appeared in most adaptations, Doctor Livesey has proven to be a more flexible character. Both Treasure Planet and Muppet's Treasure Island decided against keeping Doctor Livesey as human at all. In Treasure Planet, Doctor Livesey is called Delbert Doppler—and he's a dog-like alien to boot. Although Delbert Doppler is a Ph.D, not an M.D., Muppet Treasure Island does bring in a medical doctor: Dr. Bunsen Honeydew. The Festival's Jonathan Haugen may not be a doctor either, but he will certainly bring Doctor Livesey and his calming influence to life as he tries to keep the mutinous crew of the Hispaniola on board.
Captain Smollett is the only character who suspects a mutiny from the very beginning of the story. Disney's Treasure Island (1950) kept its Captain Smollett as a stalwart man of the sea, although he doesn't act as a father figure for Jim. Treasure Planet, meanwhile, switches it up by making Captain Smollet into Captain Amelia, a female, cat-like alien. Of course, we won't have aliens on the Festival stages this year, but we will have Paul Michael Sandberg with us as Captain Smollet to lead the resistance against Silver and his mutinying maties.   
With at least 50 adaptations to choose from, just remember that Mary Zimmerman, the  playwright for this adaptation, keeps her eye on the true prize: "a lifelong pursuit of childlike imagination." Don't miss your boat, it'll be the journey of a lifetime—and not just for Jim Hawkins.