Educational Tour Once Again Hitting the Road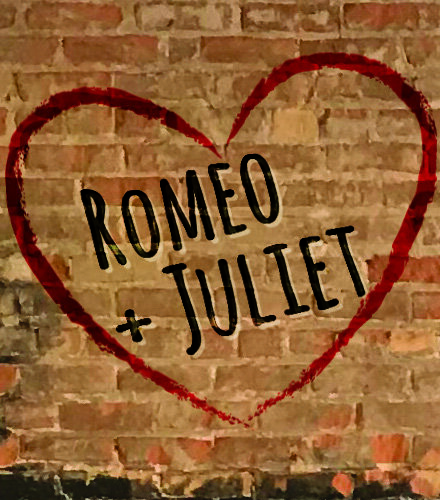 The Utah Shakespeare Festival is once again hitting the road with its Shakespeare-in-the-Schools touring production—this year performing one of the world's most popular and tragic love stories, William Shakespeare's Romeo and Juliet.
The tour will be performing nearly 60 shows for over 120 schools and 25,000 students across the states of Arizona, Wyoming, Colorado, Nevada, and Utah. The cast and crew will be on the road for thirteen weeks from January through April to bring this classic tragedy to schools, community centers, and correctional facilities. Students will have the chance to watch the show and then participate in a post-show discussion and workshops in Stage Combat, Performing Shakespeare's Text, Technical Theatre and Developing Character through Improvisation.
Romeo and Juliet will present one public performance will be on January 29 at 7:30 p.m., in the Auditorium Theatre at Southern Utah University. General admission tickets are $5 and can be purchased at the Festival ticket office at 800-PLAYTIX (800-752-9849) or online at www.bard.org/tour. Tickets purchased ahead of time will be available at will call in the Auditorium Theatre. On the night of the performance, only cash and checks will be accepted at the Auditorium Theatre door, whereas credit and debit cards will be accepted at the Festival's main ticket office next to the Anes Theatre. Admission is free for SUU students.
Jason Michael Spelbring, familiar to Festival audiences through his many acting and directing stints for Festival plays, is directing this production. He is associate professor in the Department of Theatre Arts at Utah State University–Caine College of the Arts and associate artistic director for Lyric Repertory Company. Directing credits include An Iliad at the Festival and Twelfth Night at the Conservatory of Theatre Arts at Webster University. He is a member of Actors' Equity Association and Stage Directors and Choreographers Society 
"For many of our audiences this will be the first time they have seen a professional Shakespeare production," said Michael Bahr, Festival education director. "This program seeks to entertain, enrich, and educate with innovative  and accessible performances to rural and urban schools and communities, many of which would not have this opportunity otherwise." 
Actors in the touring company include a number who have worked at the Festival, as well as professionally across the country. They are:
Ian Allred (Benvolio, Paris) recently received his BFA from Southern Utah University. He has appeared at the Utah Shakespeare Festival in Joseph and the Amazing Technicolor Dreamcoat, *Big River,*and The Greenshow.
Dane Michael Braddy (Romeo) is from Logan, Utah, where he also earned his BFA from Utah State University in 2019. Favorite credits include Levin in Anna Karenina, Paul in The (Obsolete) Unkindness of Ravens, Will Bloom in Big Fish, and Henry in Next to Normal.
Kenna Funk (Tybalt, Lady Capulet, Peter, Friar John) is attending Southern Utah University for her BFA in acting. SUU credits include Private Lives, Richard III, and Rosencrantz and Guildenstern Are Dead. She has appeared at the Utah Shakespeare Festival in Hamlet and Joseph and the Amazing Technicolor Dreamcoat.
Rachael Hodge (Nurse, Prince) is a recent graduate of Utah State University with a BFA in acting. Favorite credits include Mamma Mia! (Lyric Rep), Anna Karenina, Xanadu, Much Ado about Nothing (Utah State University), and Oklahoma!, Romeo and Juliet, The Drowsy Chaperone (MiraCosta Theatre).
Marena Kleinpeter (Juliet, Sampson) earned her B.A. in theatre arts from the University of Northern Colorado then relocated to Seattle to work with Intiman Theatre. She has worked at Seattle Public Theater, 5th Avenue Theatre, Edmonds Driftwood Players, LG! Theater, and GreenStage: Shakespeare in the Park. 
Trey Plutnicki (Mercutio, Montague, Friar Lawrence) recently graduated from Otterbein University in Westerville, Ohio with a BFA in musical theatre. He has appeared at the Festival in The Greenshowand *Joseph and the Amazing Technicolor Dreamcoat.*Other credits include Otterbein Summer Theatre, Weathervane Playhouse, and Franklin Theatre Works.
Bailey Savage (Capulet, Balthasar) has worked in several roles with the Festival Education Department. She holds a BIS degree from Southern Utah University. She is a member of Jacaranda Collective, and previous credits include The Shakespeare Project of Chicago, Midsommer Flight, Intrinsic Theatre Company, and Lyric Repertory Theatre Company.
In addition, the tour company includes three technical and administrative artists:
Emily Cacho (Company Manager) is returning to the Festival for her fifth year. She has previously worked in the Festival's Ticket Office as a ticket office supervisor. She is a recent graduate of Southern Utah University's theatre arts program with a minor in arts administration.
Collin Hall (Technical Director) is a lighting designer and technician from Tennessee. She has worked for the Utah Shakespeare Festival for the past two summers as an electrician and has designed at such theatres as the Clarence Brown Theatre, Flying Anvil Theatre, Theatre Aspen, and Maples Repertory Theatre.
Jaclyn Pageau (Stage Manager) earned her BA in Theatre from Dartmouth College. Based in New York City, some of her favorite recent credits include *BrandoCapote,*Raylynmor Opera (Die Fledermausand Barber of Seville), and *Sigh No More,*as well as her work with Northern Stage's education program
The Festival's Shakespeare-in-the-School touring production is made possible by generous donations from the National Endowment for the Arts in conjunction with Arts Midwest, the Hearst Foundations, the Utah State Office of Education, Ally Bank, Mountain West Small Business Finance, and Southern Utah University.