Tour Schedules Public Performance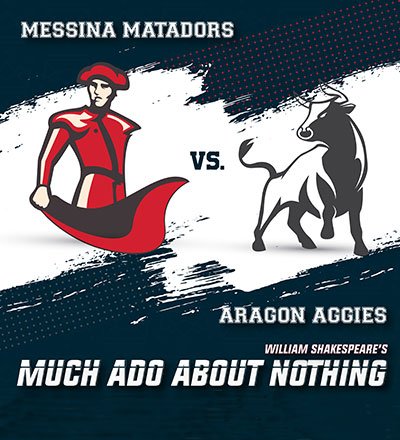 By Liz Armstrong 
CEDAR CITY — The Utah Shakespeare Festival's educational touring production of Much Ado about Nothingwill present one public performance in Cedar City in preparation for its annual tour later this winter.
The schedule for the tour outside of Cedar City is currently on-hold because of concerns over COVID-19 for our audience, actors, and crew. Further announcements about the schedule will be made as soon as possible.
The performance is scheduled for January 28 at 7:30 p.m. in the Randall L. Jones Theatre. Tickets and more information are available online at bard.org/tour or through the Ticket Office at 800-PLAYTIX. Tickets for the seventy-five minute show are $10.
Education Director Michael Bahr is ecstatic that the Festival its presenting its twenty-eighth education tour. "We need this play now," Bahr said. "It is wonderfully comic and tragic, and it celebrates our humanity with tender, heartfelt pathos." 
Actor Laura Brennan, who is playing Borachio and Bathlazar, seconds this idea: "I hope audiences are reminded how many different ways there are to love, to forgive, and to change when they see these characters onstage."
Directing the play is Betsy Mugavero, a familiar face at the Festival where she has acted for over ten seasons. Some of her favorite roles include Juliet in Romeo and Juliet (2017), working with her husband Quinn Mattfeld in Shakespeare in Love (2017), and acting in The Book of Will(2019).
Mugavero has set this classic comedy in "a robust, collegiate world in which the characters will be found on campus at the tail end of football season." This twist on the Shakespeare comedy is sure to be a "first-round draft pick!"
"In the end, we are reminded that the game of life and love can only be won with trust, humility, a deep bench of support, and the belief that our team is greater than the sum of its individual parts," Mugavero said in regards to the play. 
Mugavero's goal is that the characters will be relatable in both folly and fragility. "I'm hopeful that audiences will see it and remember that life's heaviness is also balanced with levity and joy," she said. 
She added that the play is meant to feel fresh, contemporary, and deeply lived in by the performers. "The actors open us up to our own vulnerability and, by doing so, lift burdens we may be feeling both through laughter and their honest emotion." 
The Festival touring production of Much Ado about Nothing is made possible through the generous sponsorship of Shakespeare in American Communities, a theatre program of the National Endowment for the Arts in partnership with Arts Midwest; the Utah State Office of Education Professional Outreach Program in the Schools (POPS); and Ally Bank.