Utah Shakespeare Festival Mourns the Passing of Board Member and LDS Leader L. Tom Perry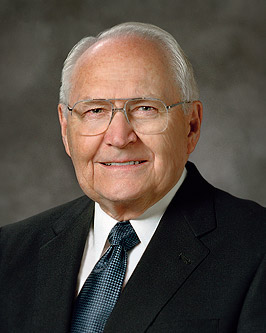 Utah Shakespeare Festival Mourns the Passing of Board Member and LDS Leader L. Tom Perry
The Utah Shakespeare Festival joined last week with others around the world in mourning and paying tribute to L. Tom Perry, a member of the Quorum of the Twelve Apostles of the Church of Jesus Christ of Latter-day Saints and of the Festival's honorary board of governors.
Elder Perry died on May 30 in Salt Lake City at the age of 92. He was recently diagnosed with thyroid cancer. His funeral was June 5 in the Tabernacle on Temple Square in Salt Lake City.
Elder Perry was asked to serve on the Festival's advisory board starting in 1989 and has served since then until his passing on Saturday. "He was always accessible to us when we needed advice or counsel," reminisced Fred C. Adams, Festival founder and a friend to Elder Perry. "He represented us in so many different circles through his twenty five years.  We will sorely miss him. He brought such a calming energy to so many of our difficult decisions. "
Perry was the oldest member of the church's top 15 leaders and was one of the four leaders to meet with President Barack Obama during his recent Utah trip. Perry was a staunch supporter of the arts in Utah and a tremendous advocate. It was an honor to have him serve so many years in the advisory board. 
Known for his affability and optimism, L. Tom Perry will be vastly missed at the Festival.
More on L. Tom Perry: http://www.mormonnewsroom.org/article/elder-l-tom-perry-dies-at-age-92