Welcome to Shakespeare U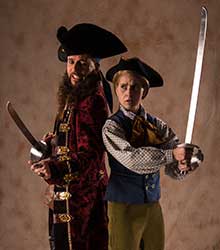 Click to Register
Michael Elich (left) as Long John Silver and Sceri Sioux Ivers as Jim Hawkins in Treasure Island.
Would you like a little more "hands on" adventure as part of your play going this summer? Are you, your friends, or your family looking for something with a little more verve, that will connect you more closely to your theatrical experience? If so, then the Utah Shakespeare Festival's new Shakespeare U may be just what you are looking for.
Beginning this summer, the Festival is starting Shakespeare U with the goal of putting you a little more "in touch" physically and intellectually with what is happening on our stages. Two one-hour courses will be available. Stage Combat will be July 27 and August 3. Text will be July 28 August 4. All will start at 10:15 in the Frehner Education/Rehearsal Hall and will be coached by Festival actors and other professionals.
The cost is $8, and tickets can be purchased at the Ticket Office at 800-PLAYTIX or online at www.bard.org. Only thirty places are available in each workshop.
"Anyone can individually enjoy these new classes," said Education Director Michael Bahr. "But this is also great opportunity for a group of friends or family to get together and thoroughly enjoy a fun theatrical experience beyond the plays on the stages."
Participants in Stage Combat will create original fight scenes, using their own imaginations, scenes from the 2017 Shakespeare shows, and guidance from fight and movement experts. You will have a chance to swing a sword, throw a punch, and choreograph an entire scene—all while learning the tips and secrets professionals use to be both realistic and safe.
Text will give you a chance to create and perform scenes from the summer's Shakespeare plays, utilizing the same tools of text analysis and story creation that our directors and actors use. You will read and understand the words then get on your feet and put them into action in your own scene.
"We are excited about this new offering at the Festival," said Bahr. "It is a great way to immerse yourself in the theatrical experience and really see what it is like to read, fight, act, and direct, all in your own scene."
Tickets are now on sale for the Festival's 56th season, which will run from June 29 to October 21. The plays are Romeo and Juliet, As You Like It, Shakespeare in Love, Guys and Dolls, A Midsummer Night's Dream, Treasure Island, The Tavern, How to Fight Loneliness, and William Shakespeare's Long Lost First Play (abridged). For more information and tickets visit www.bard.org or call 1-800-PLAYTIX.
The Utah Shakespeare Festival is part of the Beverley Taylor Sorenson Center for the Arts at Southern Utah University, which also includes the Southern Utah Museum of Art (SUMA).