What We're Thankful For: Memorable Moments from the 61st Season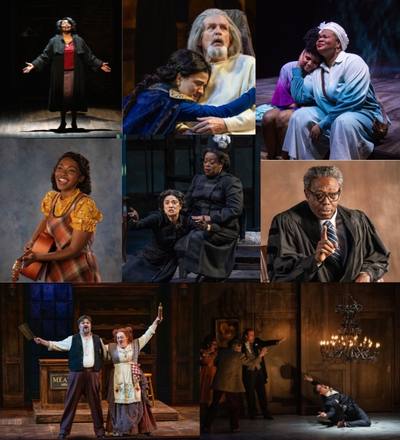 By Liz Armstrong
With Thanksgiving right around the corner, Utah Shakespeare Festival staff and patrons have been reflecting on moments from the season that left a lasting impression. 
Director of Development and Communications Donn Jersey said that he is a better person because of the play Trouble in Mind. 
"At the end of the play, Wiletta says, 'I always wanted to do something real grand in the theatre,'" Jersey said. "Well, she did, and the cast has too. It's one of the most important pieces of work the Festival has ever produced." 
It is moments like these that the Festival is most grateful for. It is the goal of this organization to reach inside the hearts of those in attendance and offer moments of change and growth– to help others become more compassionate, better human beings. 
We are grateful to our patrons for attending this past season, and express our thanks to the staff and company members that made those magical moments happen. 
Here are some of those memorable moments:
All's Well That Ends Well
Director Melinda Pfundstein's ending in All's Well That Ends Well was memorable for Education Assistant Victoria Whitaker.
"She got the audience thinking. . . did it all really end well?" Whitaker pondered. 
In Pfundstein's question and answer session as the director of the play, she voiced that this was the goal.
"I [considered] the behavior and choices of these characters, and the way human beings sometimes behave when we believe that we have time, health, power, and privilege on our sides," Pfundstein said. "All's well that ends well … or does it, actually? How long before we are faced with the consequences of the reality we create for ourselves?"
Clue 
Development Assistant Kortney Okelberry couldn't stop replaying the backwards somersaults by Andre Spathelf-Sanders and the silly transitions between scenes the cast participated in.
"I loved the reverse rewind in Clue," Okelberry said. 
Patron Sandy Parris Mill's enjoyed the utter silliness in Clue and the belly laughs that could be heard from audience members. 
King Lear 
Publications Manager Marlo Ihler was in awe seeing Anthony Heald as King Lear this year. 
"What a masterful performance to witness his portrayal of the king's demise, along with an incredible cast. Every moment of recognition of his deterioration was heartbreaking," Ihler said. "The end with Cordelia always tears me up and this year it was no different."
The Sound of Music
"Watching [Daria Pilar-Redus] was pure joy. Her smile and presence was infectious," said Development Associate Emily Cacho. "She was the perfect Maria for the Festival." 
Cacho's favorite moment from The Sound of Music was watching Maria sing "I Have Confidence." 
Patron Gayle Kuzmich said she was thankful to see such wonderful shows at the Festival, but was especially ecstatic to see her daughter Julia Kuzmich onstage as Liesl. 
Sweeney Todd 
Marketing Assistant Astrid Bacy's favorite moment of the season was witnessing "the snap" Sweeney Todd experienced onstage.
"You just have this realization that you are totally sympathizing with someone who wants revenge and plans to act on it," Bacy said. "Art can be a very gray line sometimes." 
The Tempest 
General Manager Kami Terry Paul's favorite moment on stage this year was when Ariel asked Prospero, "Do you love me?" 
"There was this beautiful, human moment of vulnerability and then joy when Prospero said, 'Dearly, my delicate Ariel,'" Paul said. "I think we all have moments that we feel the same vulnerability and question our place in the world, and I want so much for everyone who questions the love of those around them to receive the same kind of message of love that Prospero gives to the faithful Ariel." 
Patron Jesse Witt was thankful for Trinculo, played by Kevin Kantor. 
"Trinculo captured my heart and opened my mind about who can [perform] Shakespeare," Witt said. 
Thurgood
Patron Lisa Hardy recalled Interim Artistic Director Derek Livingston's performance as Thurgood.
"His portrayal and ability to show the progression of age was . . . exceptional," Hardy said.
Livingston performed the journey of Thurgood's life. But in addition to chronicling the passing of time as Thurgood, Livingston played a plethora of characters, so studying individual dialects and becoming a student of history was critical as he prepared for the show. 
Trouble in Mind 
Marketing Manager Brittney Corry was moved by so many moments, but Wiletta's motherly pleas in Trouble in Mind touched her heart the most. 
"As a mom, I could completely relate," Corry said. "Scenes like those that make me think and deepen my perspective are the moments I'm so grateful for." 
To share moments of gratitude from the season, visit @utahshakespeare on Facebook or Instagram and comment on the "Moments We Are Thankful For" post from November 2. Have a happy Thanksgiving!