Where Elizabethan Meets Contemporary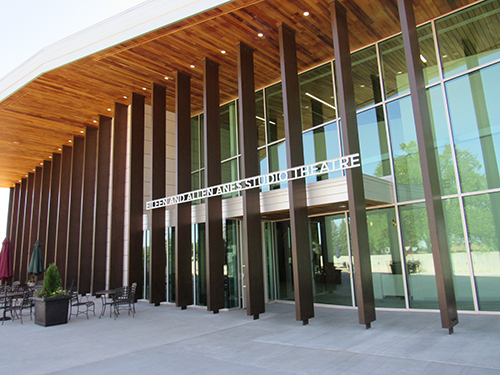 By Brooke Vlasich
CEDAR CITY, UT— Looking at the Utah Shakespeare Festival's 2017 season, you may already know several of our titles, including Romeo and Juliet and A Midsummer Night's Dream. But there are two titles that that may be less familiar. The world premiere of How To Fight Loneliness by Neil LaBute and the regional premiere of William Shakespeare's Long Lost First Play (abridged) from the famed Reduced Shakespeare Company couldn't be more different from this season's line-up. Their contemporary settings are not the only remarkable contrasts to the rest of our shows, but they also add a great deal of insight about humanity and humor to our repertoire.
William Shakespeare's Long Lost First Play (abridged), is described by director Christopher Edwards as a humorous mash-up of Elizabethan and contemporary settings. It takes the meaning of play-within-a-play to another level by having three actors take on the complicated task of incorporating numerous Shakespeare characters and themes. At the center of the play are Puck from A Midsummer Night's Dream and Ariel from The Tempest who create havoc with forty-nine of Shakespeare's famous characters. The play asks the question: "What would happen if Shakespeare's characters connected and interacted in unexpected ways?" As the script answers this question through hilarious scenarios, Edwards sees language and character as essential elements that engage a variety of audience members ranging from those who have a broad knowledge of Shakespeare to those who have little or no exposure to the Bard.
In contrast to the humor of this play is How To Fight Loneliness from playwright Neil LaBute. Known for focusing on controversial subject matter, LaBute's play centers around Jodie, a woman who is terminally ill and is faced with decisions regarding life and death. Director David Ivers emphasizes that the play is a character study that revolves around the people in the play and their relationship, not issues surrounding the plot. LaBute's work will immerse audiences in deep conversations about the play as it pulls them into a world that presents a variety of in-depth questions without any direct answers. These questions will be asked through LaBute's powerful and poetic dialogue that is ready for a classical theatre such as the Utah Shakespeare Festival to develop and pull off the page.
Both William Shakespeare's Long Lost First Play (abridged) and How To Fight Loneliness offer new perspectives, characters, and stories to our upcoming repertoire. The Eileen and Allen Anes Studio Theatre (where both plays will be performed) will provide the director, artistic team, and actors with opportunities to explore new territory regarding the human condition. Whether you are looking for a new way to experience Shakespeare or see how we're taking audiences into modern stories, these plays present plenty of experiences to explore in our new theatre.
Tickets are now on sale for the Festival's 56th season, which will run from June 29 to October 21. Other plays in the season are As You Like It, Shakespeare in Love, Romeo and Juliet, Guys and Dolls, A Midsummer Night's Dream, Treasure Island, and The Tavern. For more information and tickets visit www.bard.org or call 1-800-PLAYTIX.
The Utah Shakespeare Festival is part of the Beverley Taylor Sorenson Center for the Arts at Southern Utah University, which also includes the Southern Utah Museum of Art (SUMA).