Why We Value Arts Education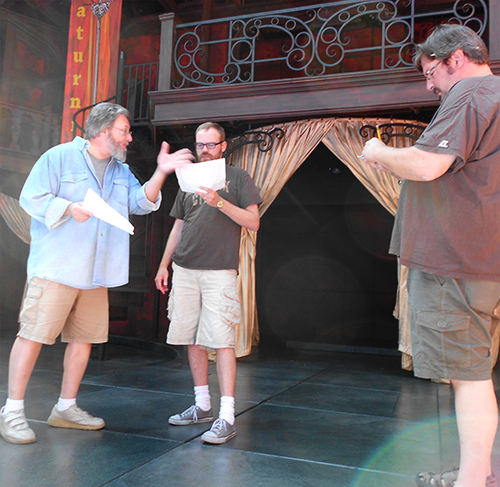 By Brooke Vlasich
Roderick Peeples (left), a Festival actor, teachers an acting class.
Advertising current plays, broadcasting daily events, and promoting fundraising opportunities may seem to be the main focus of any theatre company, but at the Utah Shakespeare Festival we also value education. For us, educating and inspiring future theatre artists and supporters is just as important as any marketing project and community event.           
We've fostered this enthusiasm for theatre with classes in acting and technical theatre, as well as showing teachers games and exercises they can use in the classroom to help students understand Shakespeare. 
This is part of what makes our classes stand out from other training programs. But what else contributes to this success? A few of our dedicated instructors told us what they think and shared their experience and passion for teaching theatre and Shakespeare:
Stewart Shelley, an instructor for the Festival's Actor Training and Acting for Directors, has taught theatre in secondary schools for fourteen years and views our educational outreach programs as some of the best in the nation that expose students to great literature and performances.
He feels theatre education is an important part of a child's life because it teaches skills like teamwork, tolerance, accountability, collaboration, and self-discovery. Shakespeare, Shelley said, is essential to an actor's work since it involves key concepts including text analysis, voice and diction, and strong character development. 
Andrew Hunsaker, another instructor for Actor Training and Acting for Directors, has worked for numerous Utah schools, including Tuacahn High School, Salt Lake School for the Performing Arts, and Pioneer High School for the Performing Arts and is currently the drama teacher for Spanish Fork High School.                                                                               
He was previously an actor for the Festival for a few years and tells us his goal is to see the program inspire students to be confident in their skills and give them the tools to become the actors they aspire to be. When asked why he thinks Shakespeare is an important part of education, he responded, "Shakespeare gives so much confidence and knowledge and broadens the student's spectrum of material. He is known for being the master of the human condition, and for us as teachers and students to understand how and why gives us a strong foundation for all of the theatre arts."
Whether our instructors are in the classroom or a part of Festival activities ranging from current shows to the New American Playwrights Project, their commitment to theatre education is essential to the future of the arts.  If you're interested in learning more from our instructors about any aspect of theatre, visit our Camps/Classes page at http://www.bard.org/camps-classes for future classes and opportunities.