Words Cubed New Plays Scheduled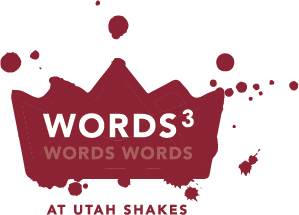 The Utah Shakespeare Festival's Words Cubed program for new plays is set to introduce audiences to two very different plays this season: Gertrude and Claudius, a prequel to Hamlet, will play August 24, 25, and 30 and September 1. Shakespeare's Worst! A Play on a Play, a hilarious retelling of The Two Gentlemen of Verona, will be performed August 29 and 31.
"Being part of the birth of a new play is an exciting experience, and Words Cubed offers Festival audiences an opportunity to witness and participate in these amazing, original creations. The two plays under development this summer are fantastic, but in very different ways," said Frank Mack, Festival executive producer. "Mark St. Germain's new adaptation of John Updike's novel, Gertrude and Claudius, is an innovative theatrical invention that will appeal to Hamlet fans, and anyone who likes great stories. Shakespeare's Worst, by Simpsons writer/producer Mike Reiss is full of hilarious jokes, and getting to see and respond to the invention of comedy this good is a rare opportunity for Festival audiences."                                             
Gertrude and Claudius is adapted by Mark St. Germain from the novel by John Updike, one of only three people to be awarded the Pulitzer Prize for Fiction twice. It will be directed by Jim Helsinger, artistic director of the Orlando Shakespeare Festival. Gertrude and Claudius brings a new point of view to Hamlet, Shakespeare's classic tale of guilt and revenge. The infamous couple serve as the villains in Shakespeare's work, but this is a story of good intentions gone wrong. With ominous hints at the familiar story to come, this play shakes up what you thought you knew about Elsinore and the conflicted young prince.
Shakespeare's Worst! A Play on a Play is written by Mike Reiss with Nick Newlin. Reiss is a writer for the animated television series The Simpsons. It will be directed by popular Festival actor Quinn Mattfeld. This hilarious and irreverent play features a small town theatre company performing The Two Gentlemen of Verona. But one of the cast members is very unhappy: his career is going nowhere, he's tired of the show, and he wants out—now.
The staged readings of these plays will be in the Eileen and Allen Anes Studio Theatre at 9:30 each day, followed by discussions between the playwright, actors, and audience members. Tickets are $10 at the Ticket Office online at bard.org or over the telephone at 800-PLAYTIX.
Words Cubed is designed to nurture the new work of nationally-recognized playwrights and allow them to workshop their plays in front of an audience and then receive feedback from the actors and audience.
Tickets are now on sale for all Festival plays: Words Cubed readings of Gertrude and Claudius and Shakespeare's Worst! A Play on a Play, as well as regular season full productions of The Merry Wives of Windsor, Henry VI Part One, The Merchant of Venice, Othello, The Foreigner, Big River, An Iliad, and The Liar. For more information and tickets visit www.bard.org or call 1-800-PLAYTIX.