January to April 2023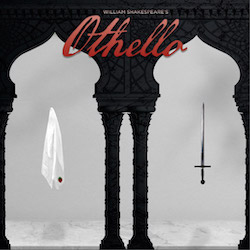 The Utah Shakespeare Festival has been producing high quality theatre in Cedar City, Utah, for over fifty years. The Festival also produces the Shakespeare in the Schools tour, which brings professional Shakespeare performances and workshops to schools and communities throughout the West. This shortened adaptation of a Shakespeare play allows students to experience the magic of William Shakespeare at their school and interact face-to-face with live actors. This fully supported production travels with complete costumes, sets, lighting, and sound through Nevada, Utah, Idaho, and Arizona.
The Utah Shakespeare Festival's production of Othello is part of Shakespeare in American Communities: Shakespeare for a New Generation, sponsored by the National Endowment for the Arts in cooperation with Arts Midwest. It is also sponsored by Ally Bank, POPS Utah State Office of Education, and Southern Utah University.
Othello Tour Study Guide
Teacher Survey
Student Survey
Single Performance Booking Fee: $1,000
Each performance is approximately seventy-five minutes long, followed by a fifteen-minute talkback with the touring company. We can usually accommodate more than one performance a day at a school or venue. Some grants are available to Utah schools.
Workshop Session: $150
Our acting company also teaches three performance-based workshops covering text/voice, stage combat/movement, and improvisation. These workshops can happen simultaneously, each designed to accommodate thirty students. One workshop session can therefore service ninety students in one hour. These workshops are designed to allow teaching artists the freedom to adapt to the specific needs of each class. We can usually accommodate more than one workshop session during the day.
Booking the Tour
If you wish for Shakespeare in the Schools to come to your school or community, please complete this form: Tour Request Form.
Region Dates
Below is a list of approximately when the tour will be in each region. Performances may be scheduled Monday through Saturday. If you are concerned that you may not be able to schedule the tour during the time your region is listed, please email usfeducation@bard.org with dates that may work better for you.
Southern Utah: January 30–February 4
Nevada: February 6–February 11
Arizona/New Mexico: February 13–February 25
Northern Arizona/Southeastern Utah: February 27–March 6
Central Utah: March 8–March 13
Utah Valley: March 14–March 18
Salt Lake Valley: March 20–March 24
Northern Utah: March 27–March 31
Wyoming: April 3–April 5
Utah Valley/Salt Lake Valley: April 6–April 21
Questions
If you have any questions, contact the Utah Shakespeare Festival Education Department at 435-865-8333 or usfeducation@bard.org