News From the Festival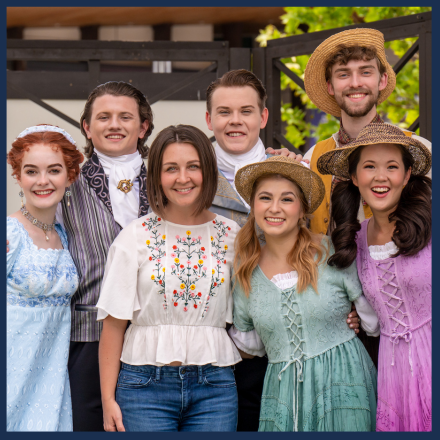 Each year, the Utah Shakespeare Festival selects a group of Southern Utah University students to be a part of the SUU Fellowship Program, some in acting, others in technical theatre. This gives the university students the chance to perform with or work alongside theatre professionals before they even graduate. 
"My favorite part of the Festival this year has been getting to see all of these brilliant artists do what they are passionate about," SUU Fellow Zina Johnstun said. "The attention to detail that these performers have to make their characters fully fleshed-out is astounding." 
Students interested in joining the program send in video auditions and then must wait months to find out if they have been accepted into the program. Many of the roles of SUU Fellows in acting are to work as understudies, memorizing multiple parts in different plays. Oftentimes, it's a demanding and thankless job—but the hard work is worth it, as students get the opportunity of a lifetime, working at a Tony Award-winning and world-renowned theater alongside professional actors.
 Meet the Acting Fellows
This year, the acting fellows chosen for the 2023 season are Ashley Aquino, Zina Johnstun, Jarod D. Lewis, Avery Peterson, and Matthew Wangemann. 
Ashley Aquino was cast as Mustardseed in A Midsummer Night's Dream and Featured Performer for The Greenshow (front row in green in the photo above). She is also an understudy for Lady Montague/Paris's Page/ensemble in Romeo and Juliet.
Zina Johnstun landed the roles of Fiddlefern in A Midsummer Night's Dream, ensemble in Romeo and Juliet, and understudy for Flute/Snug in A Midsummer Night's Dream and Balthasar/Gregory in Romeo and Juliet. 
"I believe that theatre is essential to humanity. It is a way of storytelling that one can physically see the emotions and experiences that are different from [oneself]," Johnstun said. "This creates an empathy that we need more of in this world." 
Jarod D. Lewis is Gregory in Romeo and Juliet, while understudying an astounding ten roles in A Midsummer Night's Dream, Romeo and Juliet, Coriolanus, and Timon of Athens. 
"Keeping all those tracks straight in my head has truly been a huge task," Lewis said. "This experience has given me confidence in my ability to learn quickly and hold lots of actor information all at once." 
Avery Peterson is in Romeo and Juliet as ensemble and The Greenshow as Featured Performer (back row in blue in the photo above), and is an understudy for five roles between Jane Austen's Emma the Musical and A Midsummer Night's Dream. 
"I have made valuable connections that I hope will last a lifetime, and learned so much from so many talented professionals," Peterson said. "It's easy to be intimidated by such talent, especially when it's your first professional gig, but I'm fortunate to say that I got to work with some of the kindest, most supportive performers around." 
Peterson noted that she was asked to sign her autograph for two girls in the audience. 
"I used to practice my signature when I was little, in hopes that someone would think I was cool enough to ask for an autograph," Peterson said. "It felt like a full-circle moment, since I remember asking actors for their autographs growing up, too." 
Matthew Wangemann was cast as Thistleweed in A Midsummer Night's Dream, Featured Performer in The Greenshow (back row in the hat in the photo above) and various understudy roles in A Midsummer Night's Dream and Romeo and Juliet. 
"I had the unique opportunity to cover a role for a couple weeks while a replacement was found, and the amount of love and support I received from the cast and crew was overwhelming," Wangemann said. "I felt very seen and appreciated."
Meet the Tech Fellows
For students interested in other areas of theatre, the Fellowship Program also selects five students to help in the technical area. The following were selected for the 2023 season: Mikayla Adams (hair and makeup/run crew), Nora Asplund (wardrobe), Ro Christiansen (carpenter/stage crew), Angella Lopez (carpenter), and Dora Watkins (production assistant to stage management and youth stage manager). 
Nora Asplund expressed her gratitude for making lifelong friends at the Festival this season, and for learning valuable life lessons, one of which was the importance of advocating for oneself.
"I had to spend a lot of time learning that I was just as important as the shows are," Asplund said. "If the members of the cast and crew are not at their best, the show will never be."
This season, Asplund spent a lot of time creating and modifying costumes for Coriolanus and Romeo and Juliet. As the season progressed, she switched to primarily working on The Greenshow, where she was in charge of laundry, repairs, and making sure the costumes always looked their best. 
"My primary focus is making sure the designer's vision is upheld throughout the entire run of the show," Asplund said. 
Asplund believes that theatre is crucial to the world we live in, and that it is an amazing tool both for those who create it and those who watch it. 
"Participating in theatre helps increase compassion and promotes an understanding…that is so crucial to living a healthy, happy life," Asplund said. 
Don't miss out on witnessing the hard work of these SUU Fellows, so purchase tickets today. 
The 2023 season lineup is Romeo and Juliet, A Midsummer Night's Dream, A Raisin in the Sun, and The Greenshow which close by September 9; The Play That Goes Wrong, Jane Austen's Emma The Musical, Coriolanus, and Timon of Athens which run through October 7. For more information, to purchase tickets, and more, visit bard.org or call 1-800-PLAYTIX.