Chris Klopatek- Guest Blogger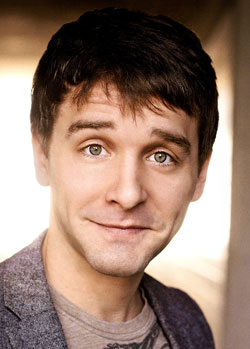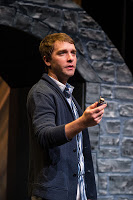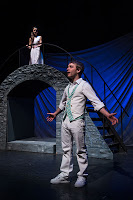 Chris Klopatek (Romeo)
"O Romeo, Romeo, wherefore art thou Romeo." Meet the man behind the name…
Where did you grow up? Where do you currently live?
I was born and raised in Milwaukee, WI. I just finished my graduate degree in Southern California, and now I'm just roaming around.
Have you ever been involved with Romeo and Juliet before?
Yes. I played Peter in American Players Theater's production a few years back.
What are you looking forward to the most about this tour; why did you want to become involved?
Romeo is a role I've wanted to play for years, so I'm excited to get a chance at it. Also, I've had some time to get to know everyone in the cast, and I think getting to know them all better and hanging out with them will be the best part of the job.
Have you ever done a similar tour like this before?
Klopatek as Romeo in the Utah Shakespeare Festival's Shakespeare-in-the-Schools touring production of Romeo and Juliet.
Yes. It was the same American Players Theater production of Romeo and Juliet. We played the show on their outdoor stage all summer, then, in the fall we took it on tour around Wisconsin. It was very similar, except we did the full-scale production, not a cut script.
What do you hope to contribute or give to young audiences during this tour?
I hope that I can get them excited about theater and Shakespeare in general. A lot of young students think that Shakespeare is too difficult to understand. If I can get them to see the beauty in his plays, or even just get them to know that it's there, I'll think that I've done a good job.
What are you hoping to personally learn?
As an actor, I am always learning and getting better at my craft. Doing a show over and over again while on tour is one of the best ways to explore and find new things with acting. We will have to adapt to new and different spaces, acoustics, lighting set-ups, set pieces, etc. Being able to recreate what we've already built in rehearsals will be a challenge, but a very rewarding one.
What are some of your favorite hobbies?
I really love good movies, video games, frisbee golf, and garlic. I also enjoy writing music and playing with my indie-electronica-power pop band, The Right Arms.
Why do you think art in general is important?
Art makes people see things in a different light. It opens up a side of life that we can't get from only going to a 9-5 job and coming home every day. Live performances allow for a sharing of that experience. The actors can see the audience and feel the audience. They are as big of a part of the show as everything else involved. Going to see a movie is fun, but a live performance is an experience you can't get anywhere else.
Pereyra as Juliet and Klopatek as Romeo in the Utah Shakespeare Festival's Shakespeare-in-the-Schools touring production of Romeo**and Juliet.
To learn more or see if the Tour is coming to your city, visit this page on our website-  http://bard.org/education/tour.html