2013 Casting Round 2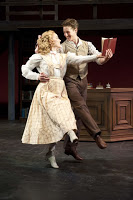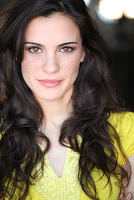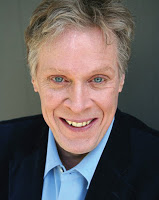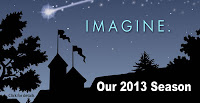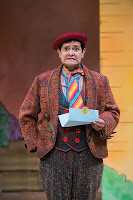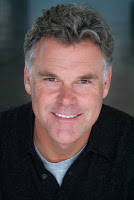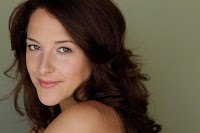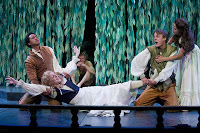 Ott, Guter The Music Man 2011
Pereya
Robinson
Casting for the 2013 season at the Utah Shakespeare Festival is nearly complete. The casting process is an exciting, but complicated endeavor because roughly 60 performers will be hired in order to fill hundreds of roles in eight plays and the nightly Greenshow. After months of auditions and contract negotiations, Artistic Directors David Ivers and Brian Vaughn are confident that these actors represent some of the strongest talent in the industry.
Appearing on the Festival stages this year will be a number of audience favorites from past years, including Matt Zambrano, Rhett Guter, Martin Kildare, Melisa Pereya, Michael Harding, Betsy Mugavero, Max Robinson, and Matt Mueller. A complete casting list is available at www.bard.org.
If audiences enjoyed seeing the Festival debut performance of Matt Zambrano last season in Scapin or The Merry Wives of Windsor, then they will love him as Ted in Peter and the Starcatcher and Don Armado, the fantastical Spaniard in Love's Labour's Lost.
"I'm incredibly excited to be back in Cedar City this summer," said Zambrano. After leaving Utah last summer Zambrano performed Santaland Diaries and Romeo and Julietat the Denver Center Theatre Company. He's currently working in New York with a youth writing advocacy group, but says, "I can't wait to get back out to Utah."
Rhett Guter is a southern Utah native and "is thrilled to be returning home to the Festival." This season he will play the unforgettable Boy who never grows up in Peter and the Starcatcher. He'll also be seen dancing and singing in Anything Goes. Guter said, "I'm not sure if I'm more excited about the people I'm working with or the shows I'm working on."
He last performed at the Festival in 2011 as Tommy in The Music Man and Flute in A Midsummer Night's Dream. In the past year he was on a European tour with West Side Story and played Tommy again in The Music Man with the Paramount Theatre in Chicago.
Martin Kildare will take on the thought-provoking Juror #8 in Twelve Angry Men and the power hungry Antonio in The Tempest. Kildare returned to the Festival last year as the wise and loving father, Atticus Finch in To Kill a Mockingbird and Leicester in Mary Stuart. In previous years at the Festival he has been in Othello, Harvey, *Hamlet,*The Imaginary Invalid, and The Glass Menagerie.
After her heart wrenching performance as Lavinia in Titus Andronicus and her hilarious Zerbinette in *Scapin,*Melisa Pereya's versatility will shine this season as she tackles all three Shakespearean plays; Love's Labour's Lost, The Tempest and King John.
"The acting company is truly exceptional, and I can't wait to start playing alongside some of the finest classical actors in the country," said Pereya. "I feel very blessed to be playing such diverse and exciting roles this season." Since last summer, Pereya spent time at the Milwaukee Repertory Theatre and played the lead role of Juliet in the Festival's Shakespeare-in-the-School's Educational Tour, Romeo and Juliet. 
Michael Harding, associate professor of theatre at Dixie State College, will play the honest but slow-minded Juror #6 in Twelve Angry Men, Sebastian in The Tempest and Duke of Austria in King John.
Harding has performed numerous roles during his tenure with the Festival and was in all three outdoor shows last season. He's worked at other theatre companies that include, Intiman Theatre, Virginia Shakespeare Festival, Seattle Children's Theatre, and Pioneer Theatre Company.
Betsy Mugavero is appearing this year as the brave, young heroin Molly in Peter and the Starcatcher and as Jaquenetta, the country wench, in Love's Labour's Lost. "I am thrilled to be back in Cedar City working on two stunning pieces of theatre with incredible artists and friends at the Utah Shakespeare Festival," said Mugavero.
Mugavero was last seen during the 50th anniversary season as Hermia in A Midsummer Night's Dream and Poppy Norton-Taylor in Noises Off!. Over the past year she's worked with many artists in theatres and cities from Boise, Idaho to New York City.
Last year if audiences enjoyed Max Robinson as Thenardier, the sleazy thief in Les Miserables and racist Bob Ewell in To Kill A Mockingbird  then they will love to see him as the second-rate gangster, Moonface Martin in Anything Goes and the hot-tempered Juror #3 in Twelve Angry Men.
"There is such a warmth and welcoming spirit at the Festival, and it comes from the audience members who make that journey to the high desert and share the group experience of storytelling," said Robinson. "They bring an anticipation, a sincere joy. After spending three seasons here, I've felt this exhilaration in the theatres, the Festival grounds, and on the streets of Cedar City. It is truly infectious, and I've caught the Festival bug again." 
Matt Mueller is returning to the Festival to play Berowne in Love's Labour's Lost and Mrs. Bumbrake, the proper English governess, in Peter and the Starcatcher. "I am thrilled to be coming back to the Festival for the 2013 season," said Mueller. 
Mueller spent some time in Berkeley, California last summer, but has mostly been working with the Chicago Shakespeare Festival. In 2011 Mueller was Lysander in A Midsummer Night's Dream, Mercutio in Romeo and Juliet and Richmond in Richard III.
Tickets are now on sale for the 2013 season at www.bard.org and 1-800-PLAYTIX (800-752-9849). The season runs from June 24 to October 19. 
Play photos by Karl Hugh, Copyright Utah Shakespeare Festival
Zambrano in Scapin2012
Kildare
Mugavero
Smithey, Sudia, Charles, Mueller, Mugavero Midsummer, 2011