"Gershwin's Broadway" Insights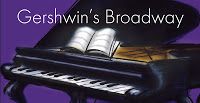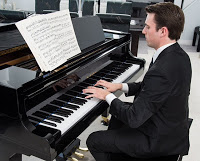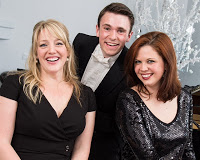 Dahlin
The Guild of the Utah Shakespeare Festival, in celebration of 50 years of service and support to the Festival, is presenting an original musical revue, "Gershwin's Broadway," on April 19 and 20 in the Randall L. Jones Theatre.
The revue was written by Fred C. Adams, the Festival's founder, and directed by R. Scott Phillips, the Festival's executive director, with musical direction by Brad Carroll. It promises to be an evening of song and dance paying tribute to the life work of George Gershwin, one of America's true national treasures.
We were able to interview Adams and Nicole Sterling (one of the cast members) to gain some insights into the evening.
Pfundstein, Dahlin, Sterling
Can you give me some background for this performance?
Sterling: This year the Guild of the Utah Shakespeare Festival is celebrating its 50th anniversary of service and support for the Utah Shakespeare Festival. They have a number of special 50th anniversary events and the "Gershwin's Broadway" Concert will be the first. Proceeds from the event will be donated to the Festival at the end of the year.
Describe the evening:
Adams: With individualized narrations and musical numbers we trace the story of George Gershwin's short life. He died at 39 from a brain tumor. And yet he's considered the father of American music.
We start with the delivery of a piano to his family who finally have enough money to buy a second hand piano to give their older son, Ira. Ira didn't take to the music, but the younger George, 12 years old, did.
The first number is a Jerome Kern number (They'll Never Believe Me) because that was the number that George Gershwin as a 14 year old with his buddy Richard Rodgers sat in the upper balcony and heard for the first time. And the irony is, it's the first time a song was dialog. It was integrated into the story. It shattered these 2 young boys; it changed their whole way of thinking.
And this talented group of six, three men (Alex Allred, Trent Dahlin and Rhett Guter) and three women (Melinda Pfundstein, Jennie Smith and Nicole Sterling), take us on this journey through WWI, the jazz age, the depression and finally the birth of movies with Fred Astaire.
The evening will be an elegant celebration, capturing the essence of Gershwin's time, with proceeds benefiting the Guild and ultimately the Festival. Performances are April 19 and 20 at 7:30 pm in the Randall L. Jones Theatre. Ticket prices range from $18 to $50 and can be purchased online at www.bard.org or by calling 800-PLAYTIX. You can learn more at http://www.bard.org/news/releases/gershwin.html#.UWiOwxnR2wE