Matt Zambrano talks about Cabaret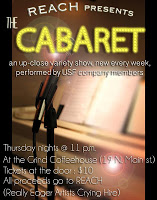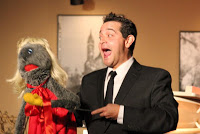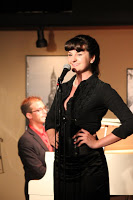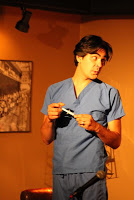 Have you included the Cabaret in your Festival Experience? If not, you'll want to take advantage of this fun, intimate setting where you can see Festival company members showcasing their other skills: juggling, singing, dancing, magic tricks, just to name a few.
2012 Cabaret, Zambrano & Puppet
What's Cabaret? Cabaretis a weekly performance (Thursdays at 11pm at The Grind Coffee Shop) to benefit REACH (Really Eager Artists Crying Hire). It's fast-paced and entertaining. Tickets are $10 at the door. People arrive as early as 10pm to secure their favorite seat.
2012 Cabaret, Melody Wilson
We spent some time with Matt Zambrano, co-chair of this year's Cabaret, to learn more about Cabaret and REACH.
What's new this year?
We have a lot of new members in the acting company, and we're excited to see what they bring to the Cabaret. When you have a lot of different artists in a room, you can come up with some magnificent ideas. It's not themed this year, except for maybe one or two - Christmas in July and the "Best of" at the end of the summer.
2012 Cabaret, George Walker
We are also going to try having company members donate items for a silent auction - one item a night. We're hoping we can get company members to donate things like original artwork, classes, or baked goods in order to raise additional funds for REACH. We'll see how it goes.
Tell us a bit more about REACH.
Since actors for the Festival are here at least four months, it's difficult to audition for other roles. So REACH brings artistic directors and casting directors to Cedar City. So far this year, we have lined up American Players Theatre from Wisconsin, Chicago Shakes, Shakespeare Theatre of D.C. and the Folger. REACH pays their airfare, lodging and the Festival donates tickets for all six plays. These industry professionals attend all the plays, hold auditions and attend Cabaret. Success stories include Melisa Pereyra with Milwaukee Rep, Rhett Guter with Chicago Shakes and Kyle Eberline with Disney.
Each season, members of the acting company volunteer to lead REACH. This year, none of last year's officers returned. Aaron Galligan-Stierle (founder of Cabaret) volunteered to be president. About two weeks into rehearsals, Melisa Pereyra, Jeb Burris and I volunteered as well, because we felt a responsibility to ensure the continuing success of REACH for the entire company. Rhett Guter and I oversee and coordinate the Cabaret. Melisa and Jeb are responsible for scheduling and managing logistics for the visiting directors. Other officers include Ruff Yeager (Auction), Alex Galick (Secretary), Carrie Taylor (Tech), Natasha Harris ("MVP") and Samuel Clein (Accompanist).
How do I learn who's performing each week?
We hold auditions on Monday and Tuesday. On Wednesday and Thursday we'll post the performers for that week on our Facebook page:
https://www.facebook.com/ReachPresentsTheCabaret?ref=ts&fref=ts
What if I can't attend but I still want to help REACH?
The Guild has graciously agreed to donate the proceeds from this year's Curtain Call Luncheons to REACH. So, you can attend one of the Friday lunches, meet 3 or 4 actors, and donate there. You can see who's appearing at the lunches on the sandwich boards around the theatre and by visiting their Facebook page at
https://www.facebook.com/pages/The-Guild-of-the-Utah-Shakespeare-Festival/165783240139805?hc_location=stream
We hope you join us on Thursday evenings for fun entertainment that helps our artists in their careers.