Roderick Peeples- Guest Blogger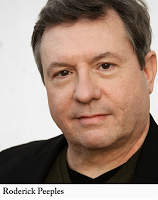 Today, we'd like to introduce a returning member of the Festival Company: Roderick Peeples.
Have you ever worked at the Festival before? If so, for how many years and in what roles/capacity?
This will be my fourth season with the Festival. I've played Falstaff (Merry Wives), Argante (Scapin), Fr. Lawrence (Romeo and Juliet), Buckingham (Richard III), Peter Quince (Midsummer Night's Dream), Fluellen (Henry V) and Duke Senior (As You Like It).
What is your title/role?
This year I'm playing Juror #10 in Twelve Angry Men (people don't much relate to those numbers, but if you've seen the film, it's the Ed Begley role), Hubert in King John (the second time I've played this role), and Trinculo in The Tempest.
Where's your home base?
I've lived in Chicago for over 20 years. But about 15 of those summers have been spent at Shakespeare Festivals around the country.
What's your educational/training background?
I graduated with a B.F.A. in Acting from the University of Texas at Austin in 1980.
Where were you working in the last 9 months?
Over the past 9 months, I've worked here at USF, at Syracuse Stage in New York, and shot an independent film in Chicago.
How will you spend your time off while here?
I'm looking forward to doing some hiking in the parks, and hosting some stargazing parties! I've worked as a sky show host at the Adler Planetarium in Chicago for the past 14 years, and I always look forward to getting a great look at the real stars in Utah.
Describe what live theatre means to you.
Live theatre has an immediacy and excitement to it that cannot be matched by any other entertainment medium, as far as I'm concerned. And the opportunity to perform it outside in the fabulous Adams Theatre just makes that experience sublime.
Describe what the Festival means to you.
There are by some accounts hundreds of Shakespeare Festivals in this country, more than in any other country in the world. And many of those festivals were inspired by someone's experience with the Utah Shakespeare Festival. It's one of the oldest and most respected in the world, by both audiences and artists alike.