Ruff Yeager and Kyle Schellinger- Guest Bloggers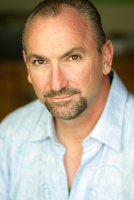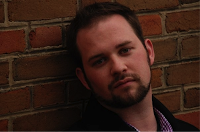 Meet Ruff Yeager, an actor, as he nears completion of his first season with the Utah Shakespeare Festival, and Kyle Schellinger, a draper in the Costume Department.
What is your title/role?
Actor
Where's your home base?
San Diego, CA
What's your educational/training background?
B.S. in Communications / M.A. in Theatre
Where were you working in the last 9 months?
Adjunct Instructor at Southwestern College in the Dept. of Theatre. In the last nine months I've directed The Night of the Iguana, Mrs. Bob Cratchit's Wild Christmas Binge, The Laramie Project and have acted in a world premiere opera, Lear on the 2nd Floor, at University of California at San Diego and Grey Gardens at Ion Theatre in San Diego.
How will you spend your time off while here?
Visiting family - our youngest daughter and her family live in St. George.  In mid-July the whole clan (many of our children and grandchildren) came to Cedar City for a family reunion of sorts.
Describe what live theatre means to you.
The primitive need to sit around the fire and share our stories - to celebrate what it means to be human.
We're glad to have you with us!
*Next, enjoy getting to know one of our returners,*Kyle Schellinger.
Have you ever worked at the Festival before? If so, for how many years and in what roles/capacity?
This is my seventh season over 9 years.  I started in 2004 as a stitcher on Henry IV part 1, and have worked since then on the wardrobe crew, and in the costume crafts department.  My first season as a draper was in the fall of 2008 on Gaslight. I've draped the costumes for 2011's Romeo and Juliet, and last season's Mary Stuart.
What is your title/role?
I am the Costume Draper for King John. (the draper creates a pattern from the design.)
Where's your home base?
I live in Knoxville, Tennessee, where I am the Staff Cutter/Draper at the Clarence Brown Theatre, the professional theatre company at the University of Tennessee.
What's your educational/training background?
I have an MFA in Costume Design and Technology from the University of Arizona and a BAR from Truman State University.  I started my training as an actor, but because of really wonderful teachers I found that my real passion was backstage in costumes.
Where were you working in the last 9 months?
I've been at the Clarence Brown Theatre where I draped the costumes for Sweeney Todd, The Little Prince, A Christmas Carol, A Raisin in the Sun, and On the Razzle.  I also designed the costumes for a play called Will Power!, which was a collection of scenes, monologues, and songs from Shakespeare, loosely woven together. 
How will you spend your time off while here?
I've already hiked Angel's Landing!  I hope to do more hiking in Zion and Bryce Canyon. Possibly a trip to Las Vegas, but really it's wonderful to just see and hang out with people that I get to work with!  Lots of fun dinners and coffee dates, trips to the Bit-n-Spur in Springdale.
Describe what live theatre means to you.
That's so hard!  Theatre is about collaboration and excitement; we, the artists, collaborate to make this piece of art, this production. But each performance is its own piece of art. Even if all the things people think of stay the same - the dialogue is the same; the actors are the same; the set is the same; the costumes are the same - nothing is really the same because the audience is different.  That's what makes it exciting and worth all the work
Describe what the Festival means to you.
Utah Shakespeare Festival was my first professional theatre job.  It is my starting point and when I think of how far I have come and how much I have grown, I can't help but be grateful.  Whenever I come to work here, it feels like coming home.  
Anything else you'd like us to know?
When Brian and David announced next year's season to the company I realized that it will be ten years since my first season when I stitched on Henry IV part 1.  Next year the Festival is doing Henry IV part 1. There's some real beauty in that symmetry for me.  I can't wait to see what the future brings for the Festival.  I'm sure it's going to be amazing!