Hosting the Tour of Utah Team Presentation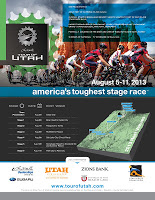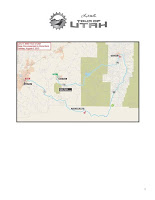 The Larry H. Miller Tour of Utah has teamed up with the Utah Shakespeare Festival as it prepares for this summer's race, the first with stages in southern Utah. The Tour of Utah, deemed "America's Toughest Stage Race," is a week-long, professional race for the best cycling teams in the world. The team presentation—official kickoff to the Tour of Utah—will be hosted by the Utah Shakespeare Festival on Monday, August 5, in Cedar City at the Adams Shakespearean Theatre.
"For the first time in the nine-year history of our professional cycling event, the Larry H. Miller Tour of Utah includes several stages in southern Utah," said Jenn Andres, project manager for the Tour of Utah. "With our presence in Cedar City, it is only natural to unite with the Utah Shakespeare Festival and Southern Utah University. The Adams Shakespearean Theatre is a stunning and unique venue for our team presentation. This is a great partnership between an international sporting event and an internationally-acclaimed venue."
The team presentation takes place from 3 to 5 p.m. and is free and open to the public. Sponsors and teams are individually recognized. Sixteen teams from seven different countries will participate. Following the August 5 kickoff, the race will occur August 6-12 and will cover a record 586 miles and more than 43,000 vertical feet of climbing. The race covers some of the state's most beautiful and challenging terrain.
The Utah Shakespeare Festival is celebrating its 52nd season this year with eight plays being presented in three theatres from June 24 to October 19. For information about the Festival, visit www.bard.org. To order play tickets, call 1-800-PLAYTIX or visit the website.
For information about the Tour of Utah, visit www.tourofutah.com