Festival Artistic Directors Play Rivals in Upcoming Richard II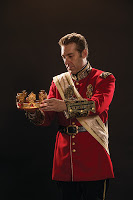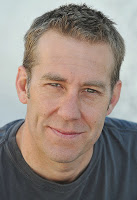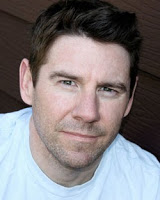 David Ivers as Richard II
The Utah Shakespeare Festival recently announced that Artistic Directors David Ivers and Brian Vaughn will once again be appearing together this fall on the Festival stage. The pair of popular actors will be appearing in the Festival production of Richard II.
Richard II follows this summer's successful King John as the second in the Shakespeare history cycle, the Festival's plan to produce all of Shakespeare's histories in chronological order.
David Ivers
Ivers appears as the title character, a cultured but disconnected king, whose mismanagement of his kingdom brings about his ultimate downfall. It marks the beginning of the War of the Roses in English history and is set in 1398. 
"Richard II is my favorite Shakespeare play," said Ivers. "I am very excited and humbled to be doing this amazing role. And, as always, it is a pleasure to be on stage with Brian."
Brian Vaughn
Vaughn plays the Duke of Northumberland, a role he calls "the king-maker" of Richard's rival, Bolingbroke, and the leader of the rebellion.
"This is a politically action-packed story, and I am thrilled to be playing such a strong character in such a rarely-produced play," said Vaughn. The last time the Festival produced Richard II was in 1993.
The last time Ivers and Vaughn both appeared in a play by the Bard was The Winter's Tale in 2011, the year they were appointed as Festival Artistic Directors. Audiences will also remember their outstanding work together in 2012's Stones in His Pockets.
"David and I thoroughly enjoy working together on stage," said Vaughn. "Our longtime friendship and love of Shakespeare makes it a joy to explore all the aspects of this work together."
Richard II tells the story of a king who descended from a powerful royal heritage, but is accused of being out of touch with his kingdom. Because he assumed the throne as a boy, his influential uncles served as advisors—and, at the beginning of the play, one has been murdered. Through turmoil, wars, disputes over authority, and poor decisions, Richard's ruthless cousin, Bolingbroke, ultimately deposes him, and ignites other nobles and commoners to his side.
It is "an interesting study of executive order and the divine right of a king," said Ivers. "It really portrays how much has and has not changed politically throughout history."
Vaughn added, "Shakespeare's brilliant and astonishing poetry also shows how a king and his strong subjects can affect history for a long time."
Richard II plays in repertory with Peter and the Starcatcher and The Marvelous Wonderettes September 6 through October 19 in the Randall L. Jones Theatre. For tickets or information, call the Festival ticket office at 1-800-PLAYTIX or visit online at bard.org.