The Marvelous Wonderettes Brings Back Three Original Creators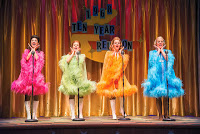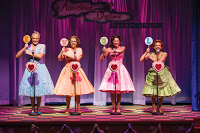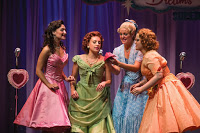 Bednarczuk (Cindy Lou), Storrs (Betty Jean), Cook (Missy), and Cozzens (Suzy), Act II Ten Year Reunion
It's like old home week at the Utah Shakespeare Festival. Three of the original creators of The Marvelous Wonderettes have joined together again to direct the Festival's fall production of this musical trip down memory lane.
Playwright Roger Bean, directing alum of the Utah Shakespeare Festival and creator of *The Marvelous Wonderettes,*is directing the Festival's production, which opens on September 21 at 2 p.m. Joining him will be Choreographer Bets Malone, who originally created the role of Suzy, and Musical Director Brian William Baker.
Bean, a graduate of Southern Utah University and former Festival marketing and public relations director, has spent nearly his entire life in the theatre. Now a successful director, creator, writer, and producer, he is primarily known for turning golden oldies into entertaining jukebox musicals.
In 1995, Bean directed the Festival's A Funny Thing Happened on the Way to the Forum, followed by The Mikado in 1996. Not long after, he began working with Milwaukee Rep, where the musical first played.
The idea for The Marvelous Wonderettes came from Bean's mother, who was a song leader and member of a singing trio in high school. "I had absolutely no idea what a song leader was," said Bean. "So I set out to find the answer, and what came out of my exploration was this sweet little show about four song leaders in high school performing for their fellow classmates."
The Marvelous Wonderettes is about a singing group of four friends at their 1958 prom. The Wonderettes, four girls with hopes and dreams as big as their crinoline skirts, sing their hearts out to popular '50s and '60s tunes like "It's My Party", "Mr. Sandman," and "Dream Lover". The girls trade gossip about high school hijinks and teenage romance. Toes will be tapping at this must-take musical trip down memory lane.
Choreographer Bets Malone, who played Suzy in the original production, met Roger Bean in Cedar City while she was a freshman at SUU in 1990. The two stayed close friends, and Bean actually wrote the role of Suzy with Malone in mind. Bean invited her to do the show at the Milwaukee Rep and he told her, "She'd be foolish to not do this project."
Since then, Malone has performed in numerous productions of the show all across the country, including an award-winning Los Angeles production in 2006, an off-Broadway production in 2008, and an original cast recording.
"I was asked to choreograph the show a couple years ago and put my own spin on it," said Malone. "I've now staged it a few times, including the national tour earlier this year, and it feels incredibly surreal to be back at the Festival."
Musical Director Brian Baker has known Bean since 1988 when they worked together at a small summer stock theatre in Montana. Bean convinced Baker to attend SUU and pursue a degree in music. While in Cedar City, Baker continued to collaborate with Bean on outside projects, as well as working on several undergraduate musicals. He was heavily involved with the Festival.
Bean selected all of the songs and acquired the rights to use them for The Marvelous Wonderettes. However, he enlisted Baker's help to manipulate and rearrange the songs. Baker created the sound that audiences will hear. According to Baker, "the goal of the production is to have the music and vocals sound perfect and crystal clear while appearing to be spontaneous and unrehearsed."
As the success and popularity of his shows increased, Bean felt the need to create his own licensing company, Steele Spring Theatrical Licensing. The full-time staff now handles all of the licensing of The Marvelous Wonderettes and a few of his other shows for theatres all over the country. This allows Bean the flexibility to travel in order to direct or remount shows regionally, and, if he's lucky, to find time to write new shows.
The Marvelous Wonderettes plays in repertory with Peter and the Starcatcher and Richard II through October 19 in the Randall L. Jones Theatre. For tickets or information, call the Festival ticket office at 1-800-PLAYTIX or visit online at bard.org.
Cate Cozzens (left) as Suzy, Natalie Storrs as Betty Jean, Barbara Jo Bednarczuk as Cindy Lou, and Victoria Cook as Missy, 2013 The Marvelous Wonderettes
Bednarczuk (Cindy Lou),Storrs (Betty Jean), Cozzens (Suzy), and Cook (Missy)