37th Annual Shakespeare Competition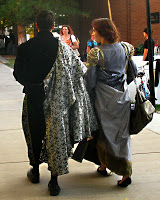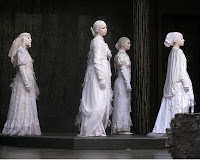 This weekend, more than 3000 students from six states and 118 different schools will descend on Cedar City for the 37th annual Shakespeare Competition, hosted by SUU and the Festival. Competitors range from sixth grade to high school seniors. Each participating school is invited to prepare up to three monologues, two duo/trio scenes, and an ensemble scene, as well as an interpretive dance, minstrel and madrigal music, and several presentations in technical theatre. Performing on Festival stages and in many classrooms on the SUU campus, students are adjudicated by professional actors, directors, dancers, musicians, and artists.
We grabbed a few minutes from Michael Bahr, Education Director and Josh Stavros, Associate Education Director, to learn more.
Is this the biggest year ever?
Stavros: Yes! There are a lot of returning groups, and about a third are schools that are new or returning after a long absence.
The new schools are tied to the Utah Advisory Council for Theatre Teachers (UACTT) http://www.uactt.com/. There's a much more cohesive group and new teachers are being brought into the fold sooner.
Bahr: Over the last four to five years, 120 – 150 teachers have joined UACTT. Now when you attend their conference and hear "are you going to the Shakespeare Competition?" " I've never been; how do I go…" - there are lots of good things happening and momentum building.
What are the key points of the competition?
Bahr: There are five key elements:
● High quality adjudication - the judges are theatre professionals with a wide diversity of ages, experience and geography.
● Standards: we measure everyone by voice: diction and projection…and the text itself.
● The festival nature of the competition – a kid will see 18 different monologues, so he learns from his own critiquing and from that of others.
● Celebration of their work - Our system allows a best in the round and allows for everyone to be the best.
● Training component - This was the most important theatrical event of the year when I was a teacher. And it set the tone for the year. Many teachers hold competitions at their schools to determine who comes here, so we're seeing the best of the best.
How does SUU fit into the picture?
Stavros: This is a great recruiting tool for SUU. At the beginning of the school year, I took an informal poll with the faculty of the Theatre Department. By their estimates, 2/3 of the students had participated in the competition.
SUU also uses this for training. For example, the music department is heavily involved, doing more clinics than they've ever done. A school group will come down, they will perform a madrigal number, they will get a clinic at that time, then they will also make appointments with music faculty for coaching sessions.
SUU is using more students to teach their technical classes and they're using it as a training ground. Not only do we have the professionals here training but now professionals in training. There's education happening on multiple levels. You have the professionals giving back to the up and coming protégés.
Again this year, we will use social media to keep participants and interested followers up to date.
Visit our Twitter at @UTShakesComp, our Facebook page at http://www.facebook.com/shakespearecomp, and our Instagram @ShakespeareComp to see updates and changes about the competition – these updates will be posted as soon as they are made. Updates will include: schedule changes, live results from the competition, and photos from that day of the competition.
You can also learn more about the competition at http://www.bard.org/competition/index.html where you can see videos from last year's event.