Festival Announces 2024 Directors: Randall L. Jones Theatre Edition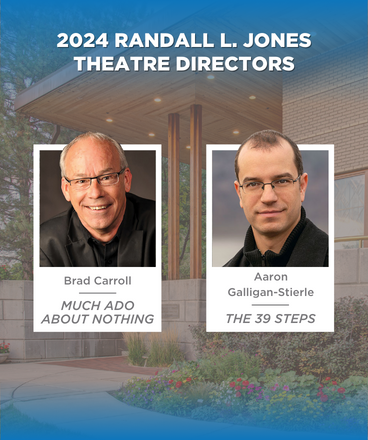 Last week, the Festival announced the directors for the Engelstad Shakespeare Theatre. Today we are excited to reveal our directors taking on Much Ado About Nothing and The 39 Steps in the Randall L. Jones Theatre.
To see their work and take advantage of the biggest sale of the year, purchase tickets for the 2024 season on Cyber Monday, November 27, for $10 off per ticket. 
Brad Carroll
Much Ado About Nothing 
June 21-October 5, 2024
"Beatrice and Benedick – everyone's favorite Shakespearean couple, yes? Certainly mine! Their antics take us on a romantic romp brimming with hilarity, love and wildly wicked wordplay contrasted, as only Shakespeare can, with darker themes of deception, loss and revenge," Carroll says. 
"The experience of this spontaneous clash of worlds ultimately leads to redemption and second chances and rediscovering the humanity we all share," he continues. "A tall order for a comedy, but Shakespeare delivers with fascinating characters, sparkling language, razor-like wit and, as in any great play, the unexpected. Much Ado About Nothing is really much ado about everything, and discovering, when all is said and done, what is truly most important."
Carroll is once again returning to direct at the Festival after directing Sweeney Todd, Joseph and the Amazing Technicolor Dreamcoat, and Les Misérables, to name a few. He has been the music director and conductor of popular Festival productions such as Jane Austen's Emma The Musical, Ragtime, and The Pirates of Penzance, among many others.
Additionally, Carroll is the composer of Lend Me a Tenor: The Musical, produced and performed here in 2007. He also boasts teaching credits from Pacific Conservatory Theatre and Southern Utah University, and is affiliated with Stage Directors and Choreographers Society. 
Aaron Galligan-Stierle
The 39 Steps
June 22-October 5, 2024
"Having performed in the 2010 Festival production of The 39 Steps, I am honored and excited to re-imagine the show for today's audience," Galligan-Stierle says. " . . .by focusing on [the play's] four storytellers who use their boundless imagination to tell a highly theatrical story full of thrills, romance, and comedy." 
Galligan-Stierle is making his directorial debut at the Festival, although he has a long history of acting at the organization. Calling the Festival his "theatrical home," he has acted here for nine seasons, including performing the roles of Wadsworth in Clue, Pirelli in Sweeney Todd, and Tateh in Ragtime. He has also been on Broadway in The Phantom of the Opera, Ragtime, and The Grinch. 
He boasts teaching credits as the head of musical theatre at Slippery Rock University, film credits as executive producer of Ruin Me, and is a member of Actors' Equity Association. He has also acted at the Kennedy Center, Oregon Shakespeare Festival, and Papermill Playhouse, to name a few. 
Visit bard.org for more 2024 season information. Go to bard.org/cyber for more details on the biggest sale of the year!